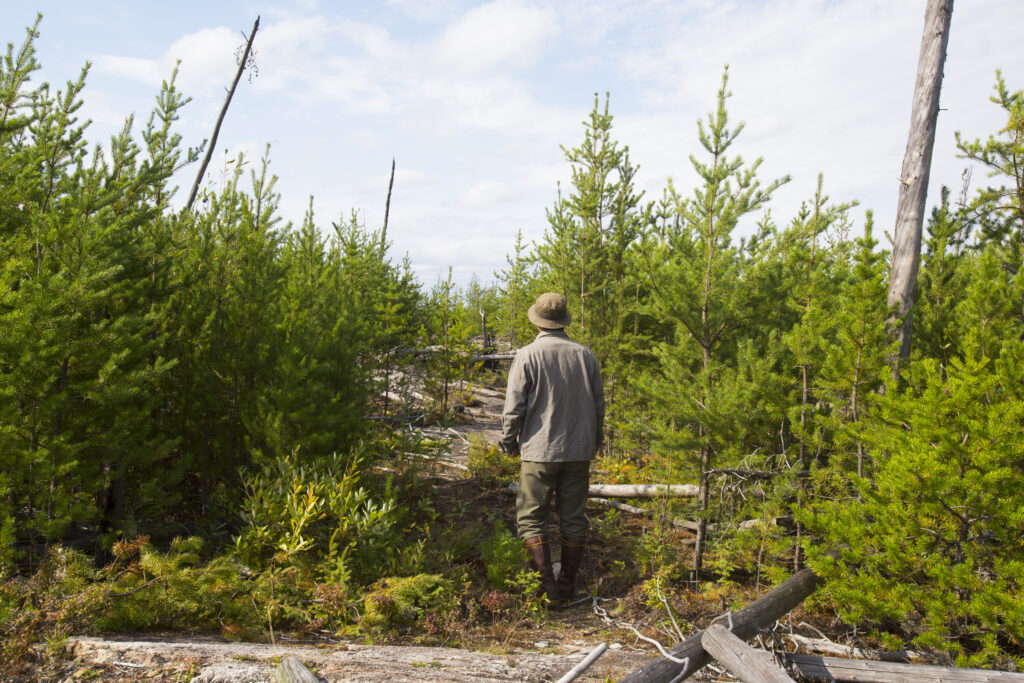 Pimachiowin Aki is part of the largest stretch of protected boreal forest—home to millions of trees and over a thousand plant species that provide vast amounts of oxygen.
The boreal forest is vital to survival, explains Brad Epp, Manitoba Forestry and Peatlands. "It provides clean air and water to everyone, habitat to wildlife and countless species, significant areas of spiritual and cultural importance, and places for all of us to recreate." It also supplies renewal resources that sustain families and communities, he adds.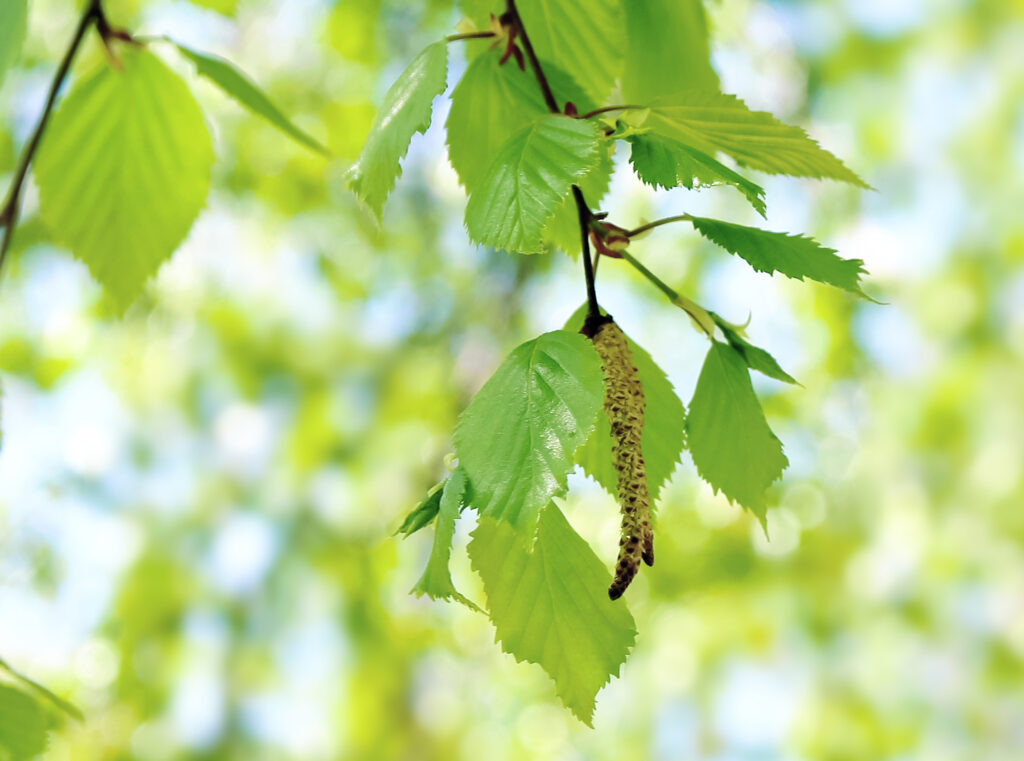 How to identify boreal trees
Here are six important boreal trees to spot across Canada this summer. Take time to honour them in your own way as you walk, cycle or paddle by!
1. Maanazaadii (Balsam Poplar)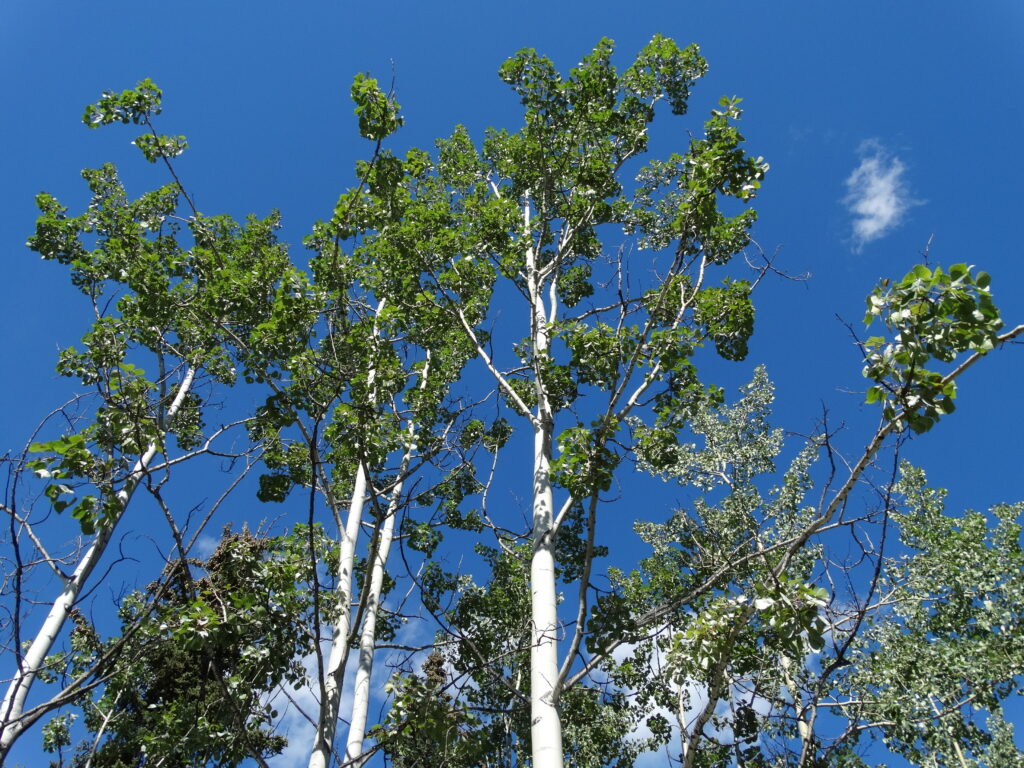 Form: Medium-sized deciduous tree with a long cylindrical trunk and narrow, open crown of stout limbs
Bark: Smooth, becoming furrowed into thick ridges, whitish to greyish brown
Leaves: Oval shaped with a long tip and yellowish metallic luster on underside
Flowers: Long, drooping catkins occur before tree has leaves
Fruit: Seeds hang on catkins when tree has leaves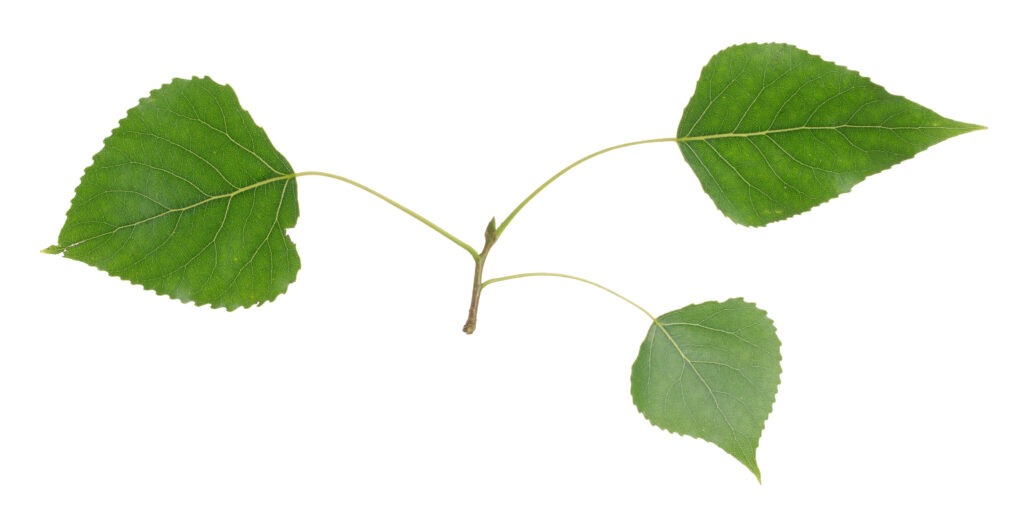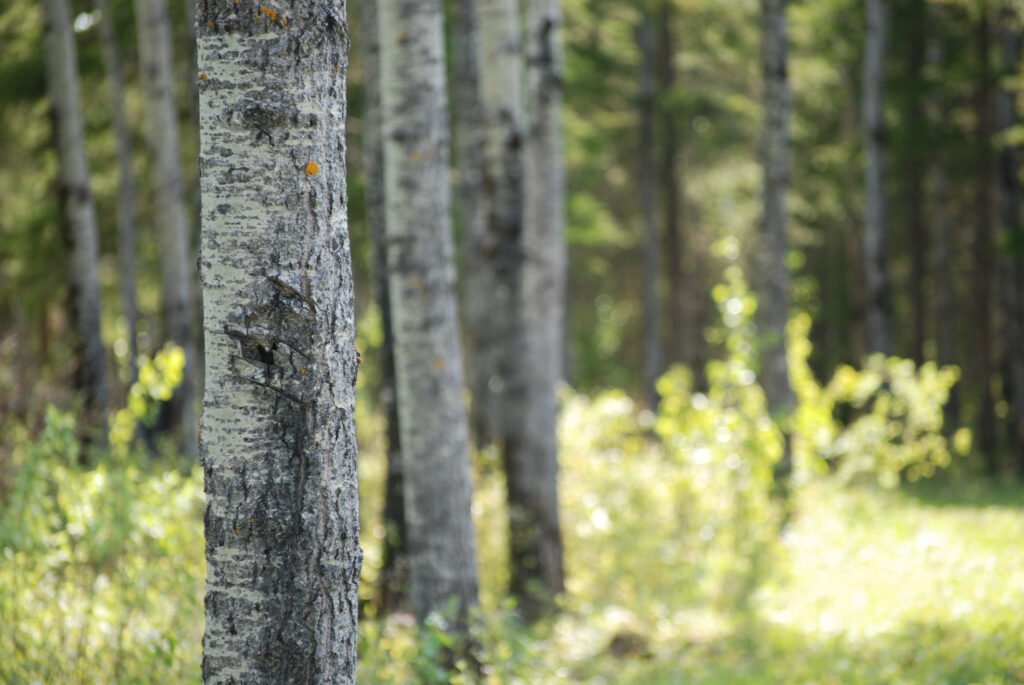 2. Wiigwaasaatig (Birch)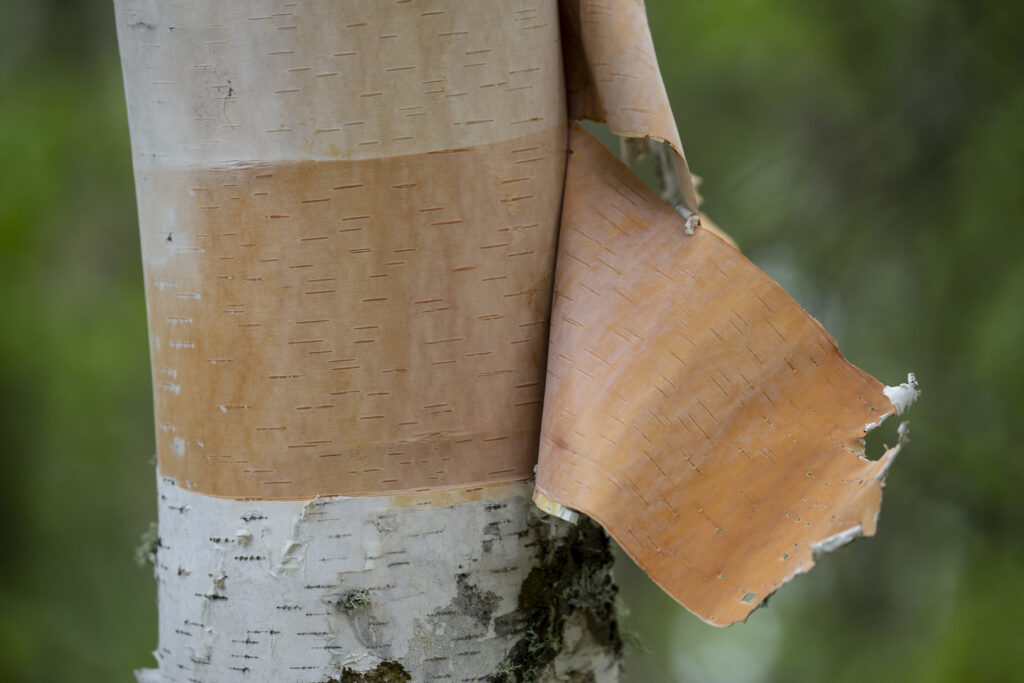 Form: Small to medium-sized deciduous tree with ascending, spreading branches. In winter, reddish-brown branches contrast against the white trunk of mature trees
Bark: Thin, smooth, white; peels off in papery layers
Leaves: Alternate, triangular or oval with jagged edges
Flowers: Catkins hang from branches in April-May
Fruit: Dry, two-winged nut in drooping catkins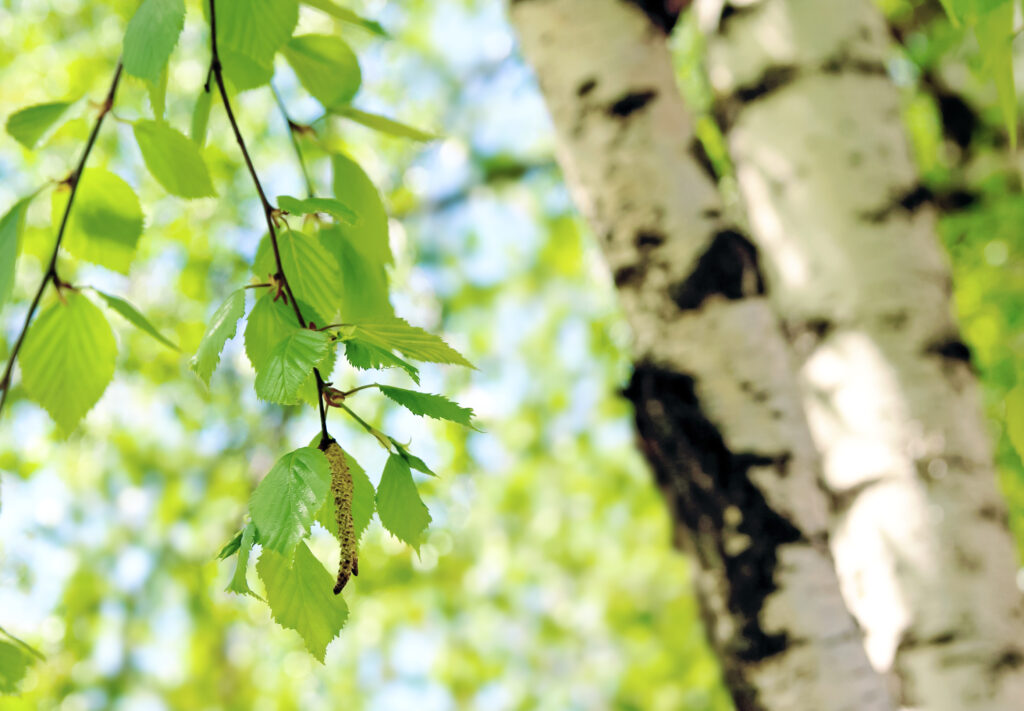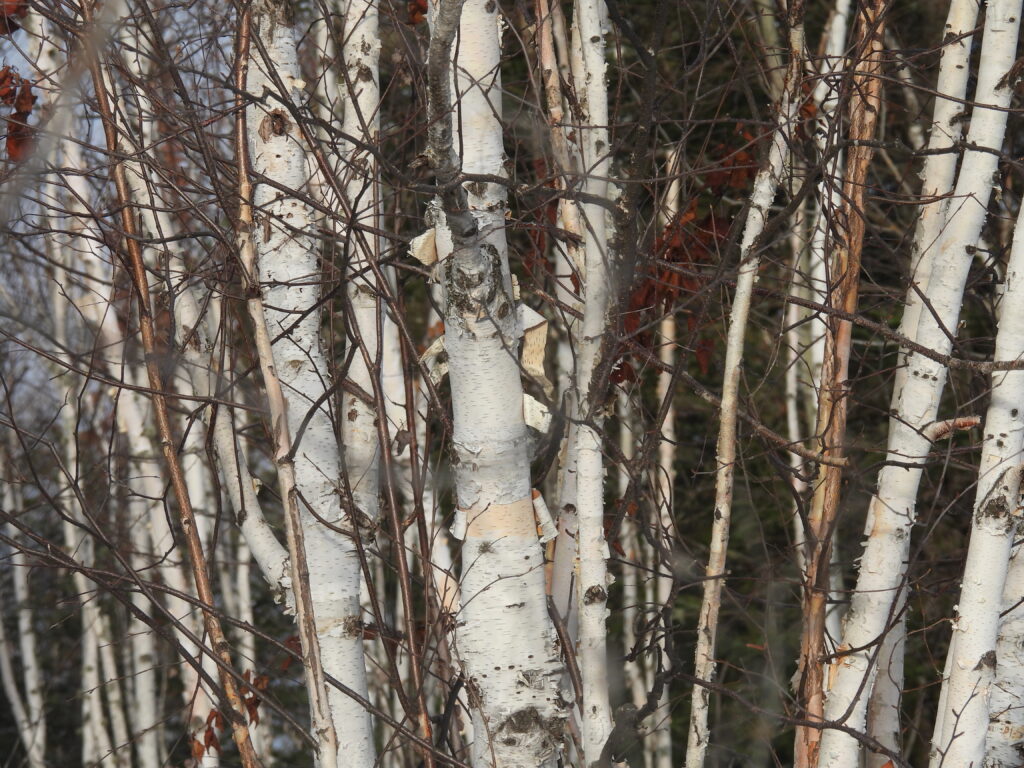 3. Zesegaandag (Black Spruce)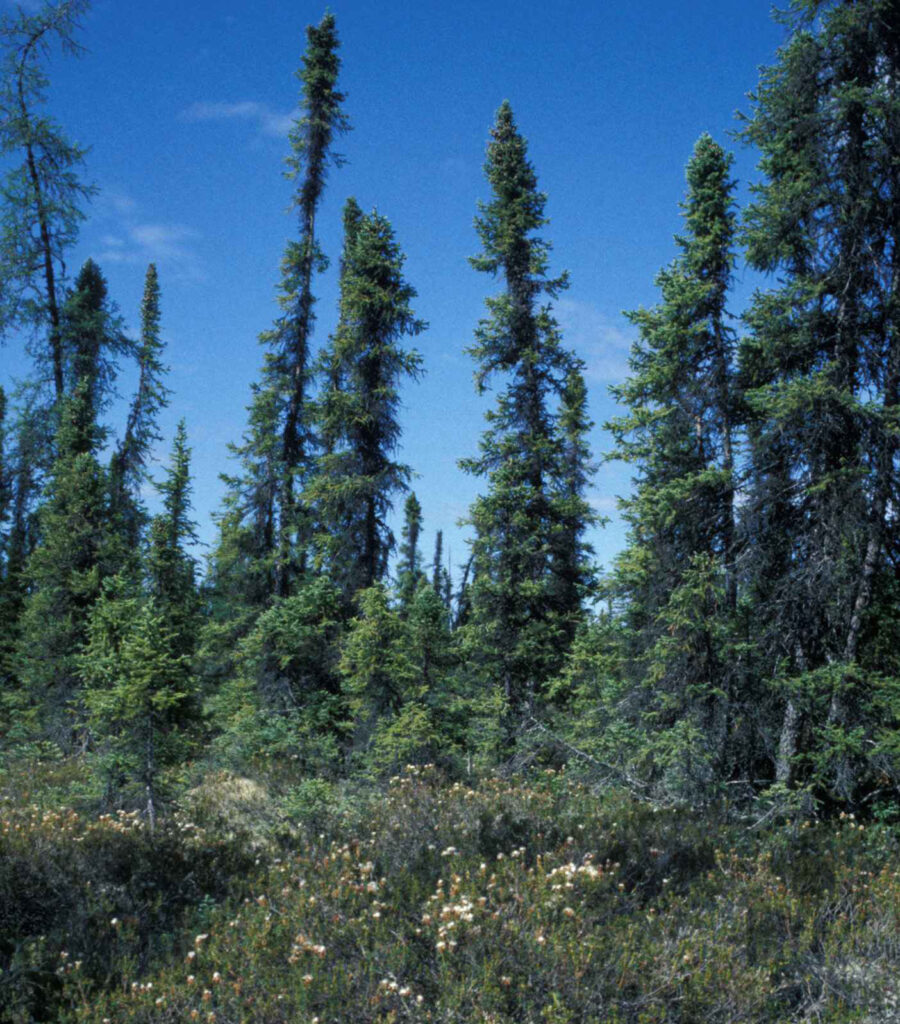 Form: Dense evergreen tree with a cluster of branches forming a club shape at the top; lower branches droop, tips of lowest branches are upturned
Bark: Thin, dark, greyish-brown scales; inner bark is greenish tinged
Leaves: Stiff, sharp, four-sided, bluish-green needles arranged around the entire branch
Flowers: Dark red or purple, oval, cone-shaped flowers point upright in May
Fruit: Egg-shaped cones with thin, brown scales usually remain on the tree for more than one year; may have a cluster of cones near the top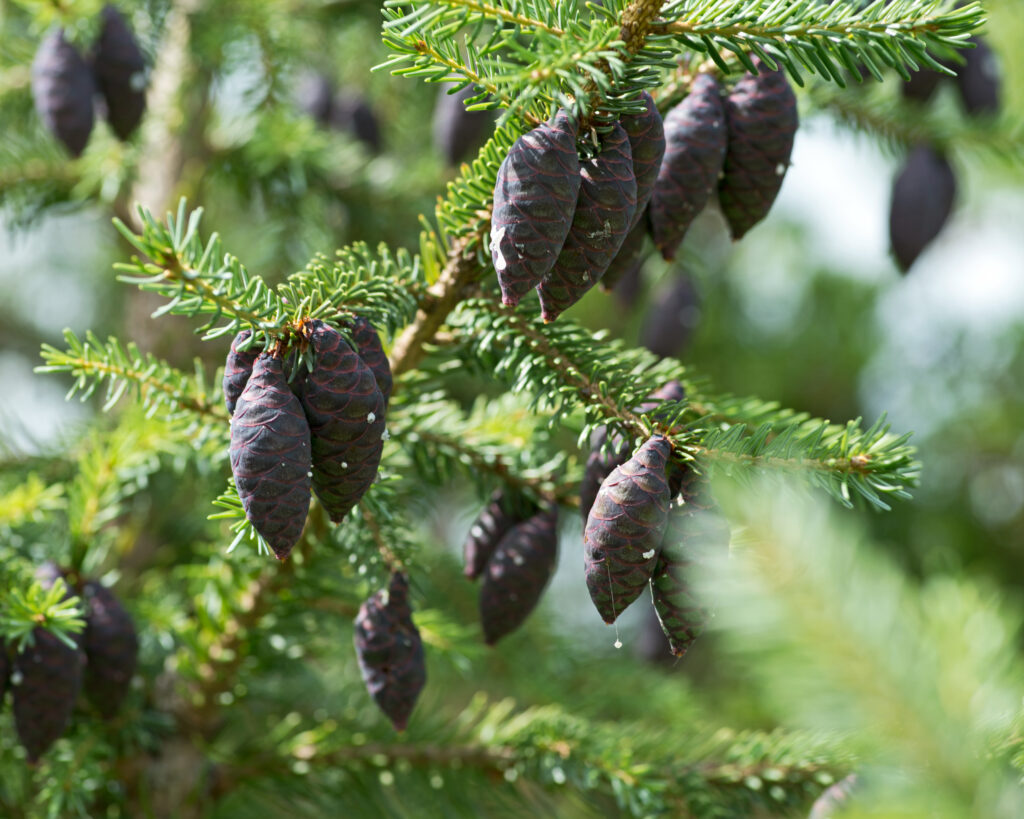 4. Okikaandag (Jack Pine)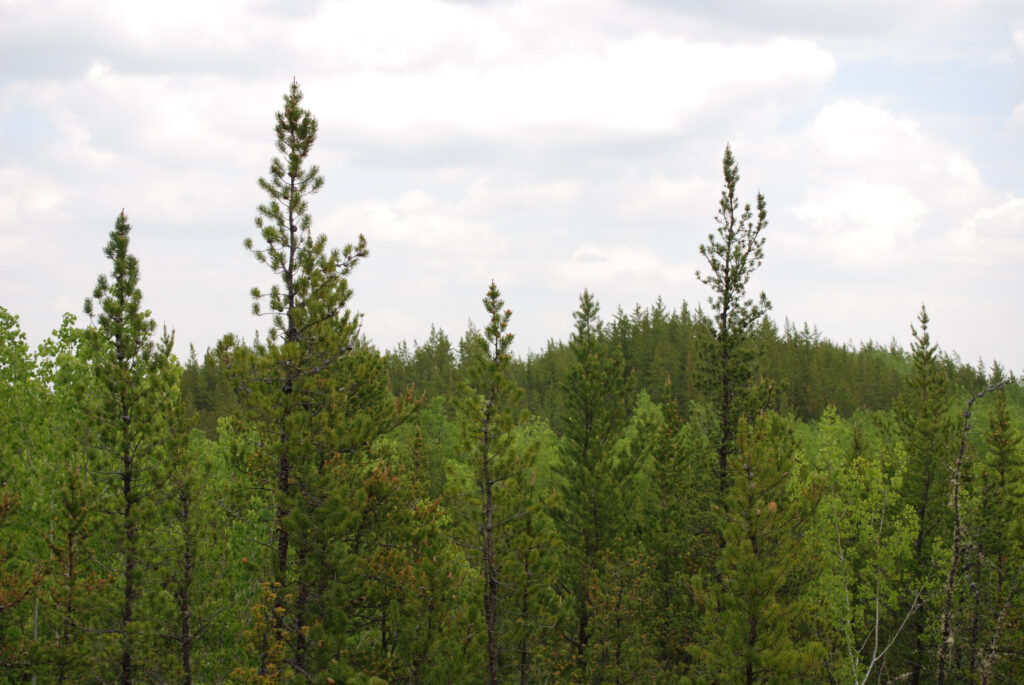 Form: Medium-sized evergreen tree with a narrow, open crown; crown is rather small in dense stands but becomes bushy and extends near the ground in open areas
Bark: Brownish with thin, loose scales in irregular shapes
Leaves: Sharp needles in pairs of two form a V-shape
Flowers: Yellow or purple, elongated flowers form in clusters near the tips of twigs in May
Fruit: Brown cones occur in pairs; horn shaped with curled tip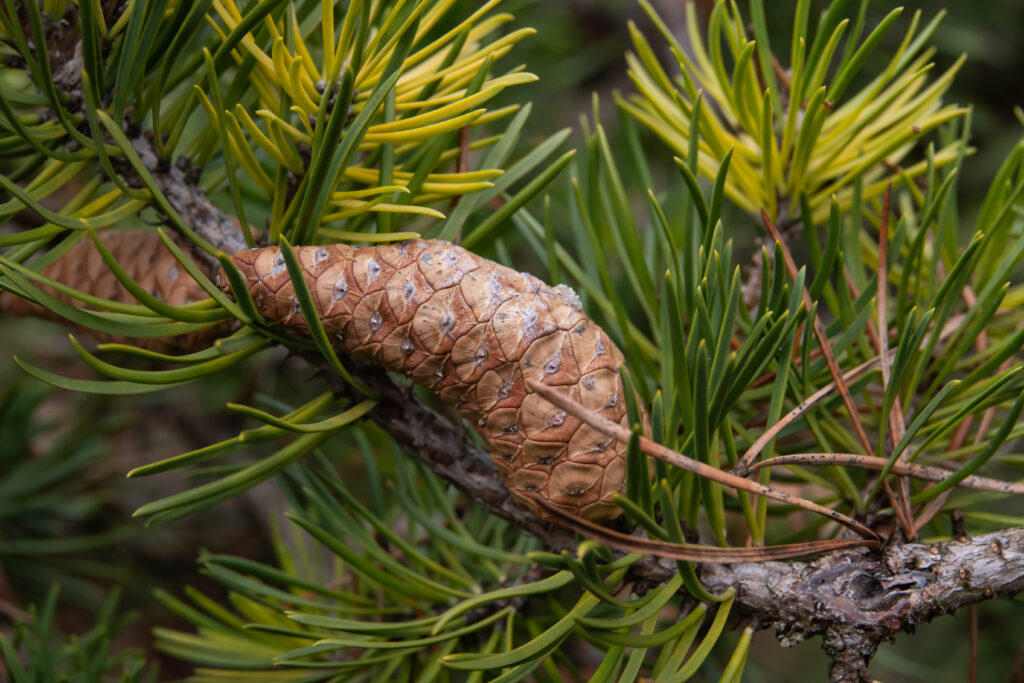 6. Mashkiigwaatig (Tamarack)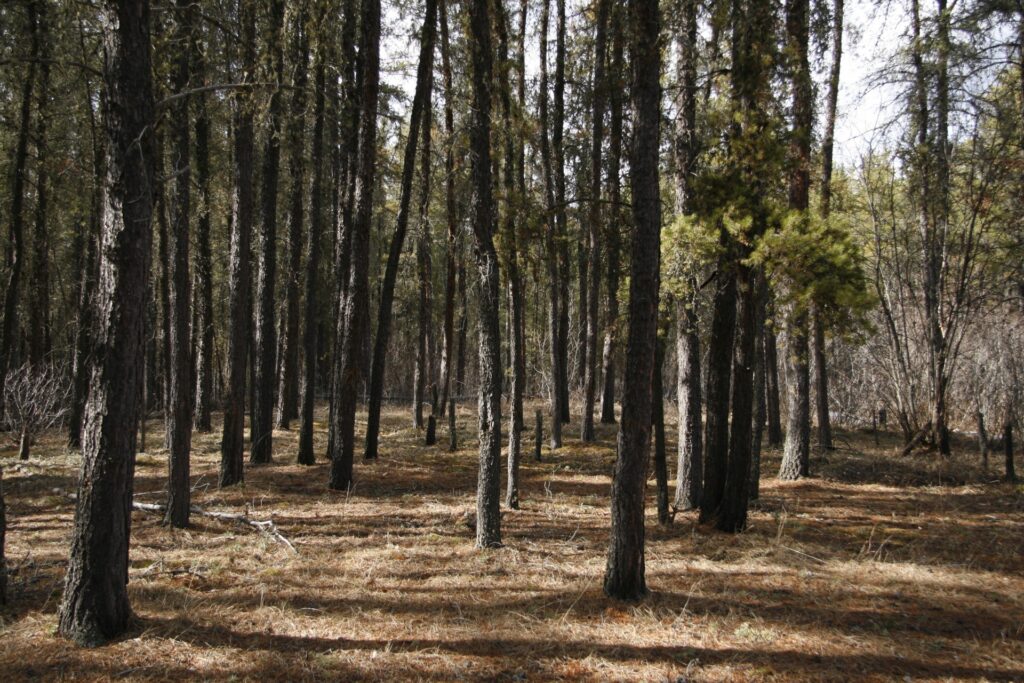 Form: Small tree with an open, light green crown
Leaves: Soft, flexible, pale green needles in summer turn yellow and drop off in autumn
Flowers: Single yellow or red, small, semi-circular flowers occur when tree has needles
Fruit: Small, upright, egg-shaped, brownish cone, composed of about 20 rounded, thin scales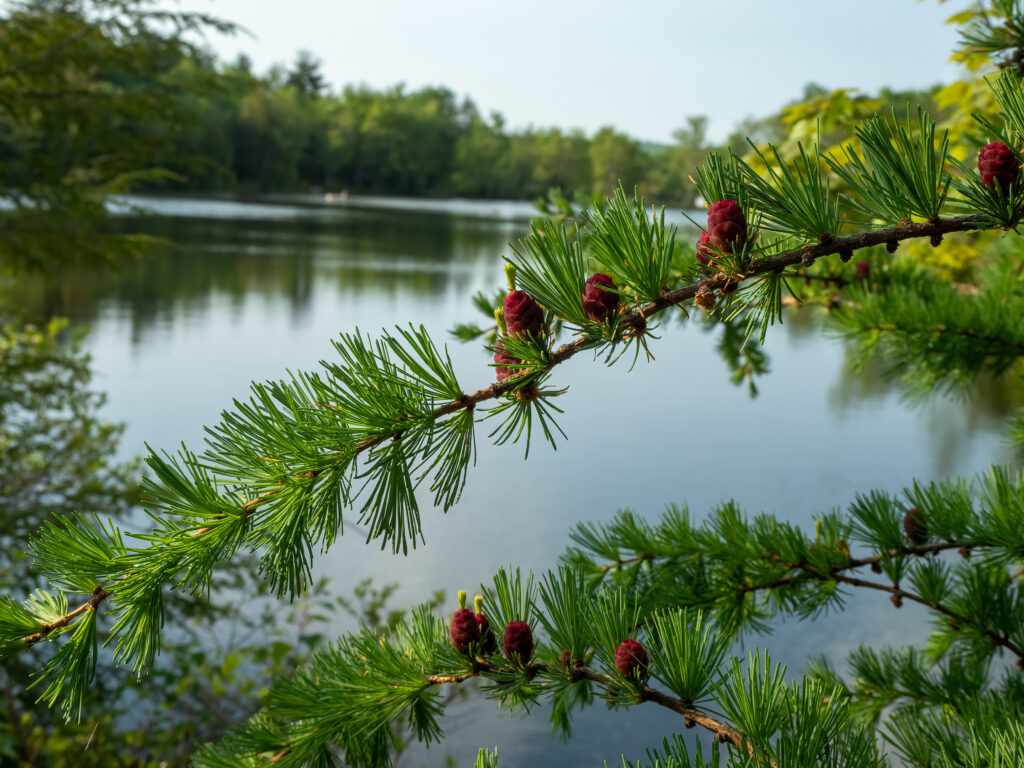 Mashkiigwaatig (Tamarack) is the only deciduous conifer that loses its needles in fall.
7. Azaadii (Poplar/Trembling Aspen)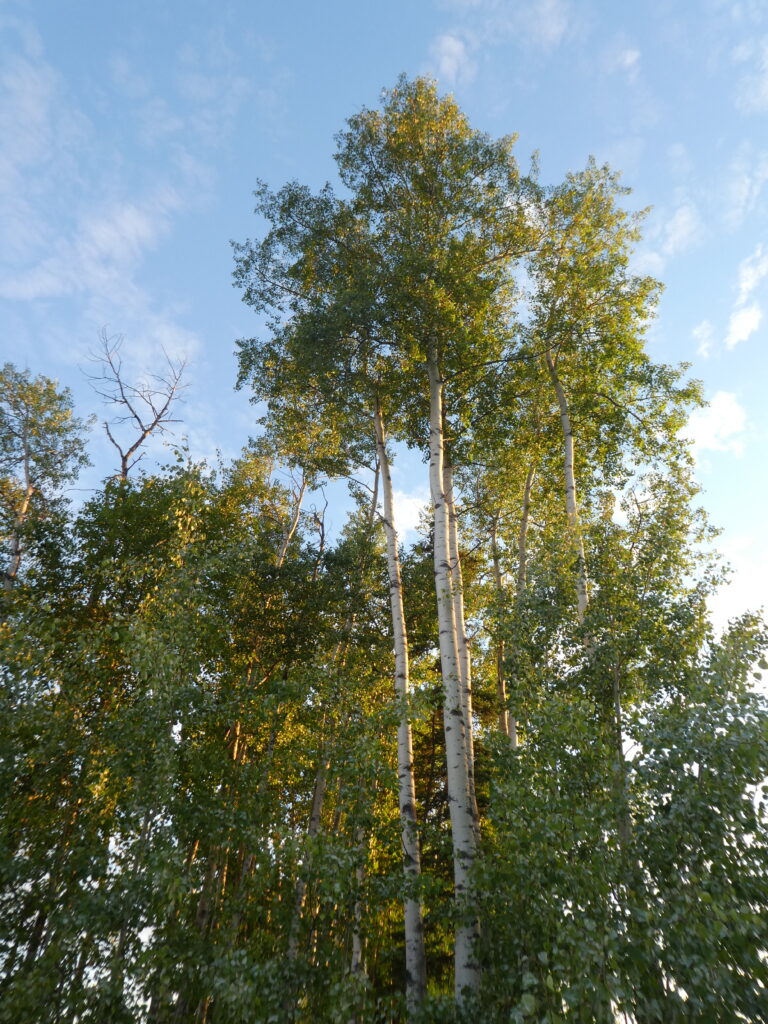 Form: Medium to tall deciduous tree with a slender trunk and moderately stout, ascending branches that form an open, round-topped crown; no branch in the lower part
Bark: Smooth, waxy-looking, greenish white bark that does not peel; becomes rough as tree matures
Leaves: Egg-shaped to circular leaves with numerous fine teeth; deep green on top and paler below
Flowers: Drooping hairy catkins appear before leaves
Fruit: Tiny capsules covered with cottony down appear in catkins when the tree has leaves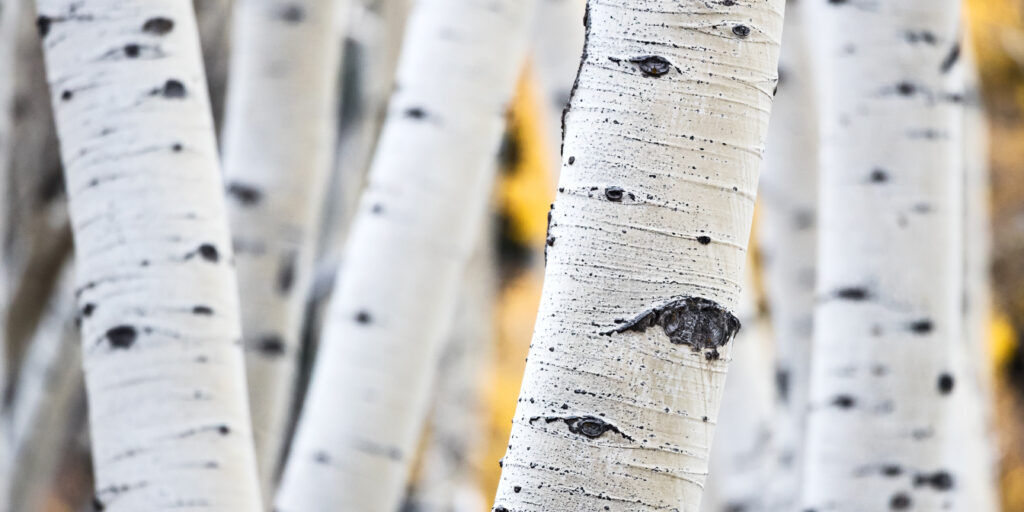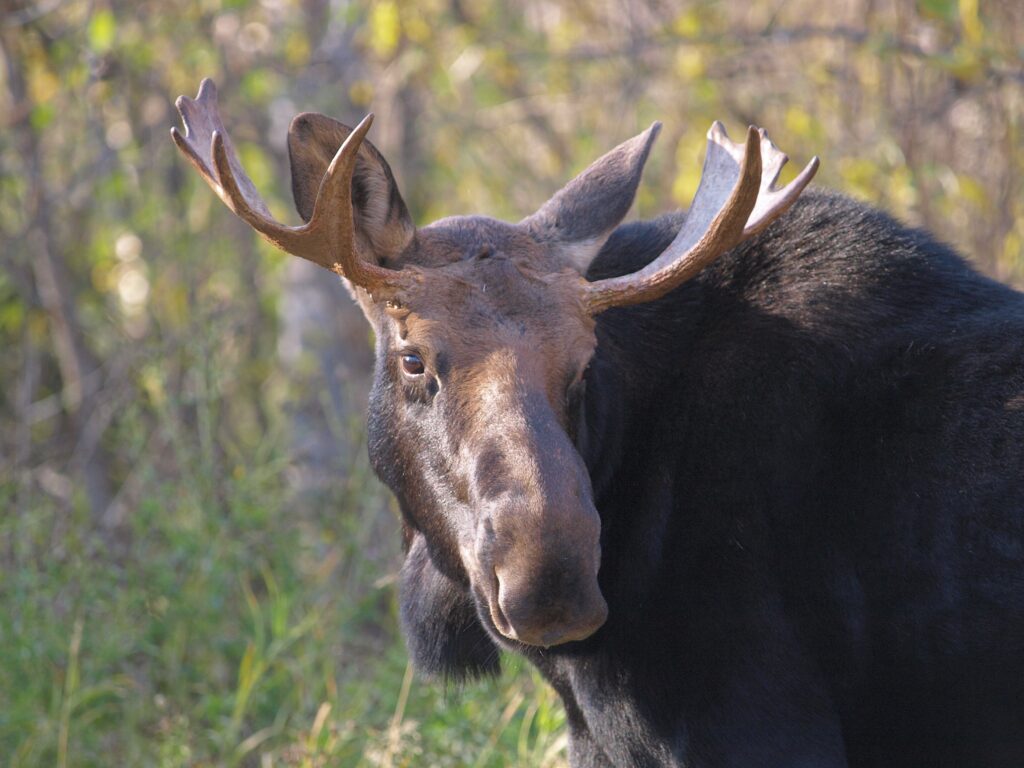 Moose strip Azaadii (Poplar/Trembling Aspen) bark for food, leaving vertical scars on the trunk.
Ask an expert—7 questions about the boreal
Brad Epp is a Forester with Manitoba's Forestry and Peatlands Branch and President of the Canadian Institute of Forestry (CIF-IFC). We asked him seven questions about boreal forest.
1. How do the trees we've profiled contribute to boreal shield ecosystems?
The boreal forest contains many types of ecosystems, and each contributes differently in different areas such as dry-lowland areas vs. upland well-drained areas. You will often find Black Spruce and Tamarack bringing forest cover to very wet areas where another tree can't grow. Each tree prefers a different amount of sun and shade, so they thrive in different times of a forest life. For example, Trembling Aspen is a shade-intolerant species, so it is the first to grow up after a fire or disturbance. Underneath the aspen, small spruce seedlings slowly grow in the shade until they are old enough to break through the canopy.
2. Is Canada's boreal forest in danger?
Fortunately, the boreal is a huge, resilient ecosystem so 'danger' is a strong word. However, local areas will be challenged by climate change. As climate changes, some southern areas may see fewer trees and more grasslands while in northern areas the forest may expand. Manitoba Forestry and Peatlands Branch has completed several Vulnerability Assessments. That research suggests that some tree species will be harder to grow in areas where they have always grown. Therefore, research continues on finding native tree species that can be planted that will adapt to a new climate.
3. What are the biggest threats to Canada's boreal forest?
Climate change is likely the largest threat, as we don't know precisely what the future will look like and how forests will respond. We expect more frequent and more damaging forest fires. There may be more damage from insects and disease, especially from invasive species. In addition, some wildlife habitat will change due our climate, threatening local populations. Therefore, we must all work together to find ways to manage these effects on our forests.
4.How does wildfire positively affect the boreal forest?
Boreal forest and wildfire go hand-in-hand. New forests are born out of forest fires. Fires release nutrients and seeds from soil. They provide new habitat and food sources for species that thrive in open environments. Then after 100 or more years of growth, the boreal forest begins to ready itself for the next fire.
5. We know that the black fire beetle thrives in burned boreal forest and is a food source for birds. What other insects live in the boreal forest in Pimachiowin Aki and how do they impact it?
Insects important to the boreal include spruce and pine budworm and pine beetles. These species develop in harmony with boreal trees and their populations are cyclical in nature. Currently on the east side of Manitoba, the jack pine budworm has been increasing and its impact can be seen in mid summer (many red needles). Although the budworm feed on the needles causing the trees stress, most trees survive. However, as the forest ages, the insects and diseases increase, eventually causing enough trees to die and build up the fuel load, readying it for fire, and starting the cycle again. The greatest threat however is from invasive insects that are not in balance with boreal species. One example is the destructive emerald ash borer, which has killed millions of ash trees across North America. Another is the Spongy moth, which feeds on most boreal tree species. These insects are at our borders in Ontario and the US.
To learn more please visit: gov.mb.ca/stopthespread/fis/eab/stop-spread.
6. What role does boreal forest play in slowing effects of climate change?
The boreal has a significant role in regulating our climate. It can act as a sink for storing billions of tons of carbon above and below the soil. However, the forest is always growing and changing. Since the boreal forest is driven by forest fires, it is not as simple as sitting back and hoping it never burns. Managing our forests requires teams of forest practitioners working with local peoples and governments so that we can maximize the impact on climate change.
7. What interesting fast facts about boreal forest surprise people?
Worldwide, the boreal zone covers:
1.9 billion hectares
14% of Earth's land
33% of Earth's forested area
Canada has:
28% of the world's boreal zone (that's 552 million hectares)
75% of its forests and woodlands are in the boreal zone (307 million hectares in total)
3.7 million people live in the boreal zone, mostly in remote and rural communities.
Sources:
NRCANS – 8 facts about Canada's boreal forest
Free Field Guide to the Trees of Manitoba, published by Manitoba Forestry and Peatlands Branch. View online or contact the Manitoba Forestry and Peatlands Branch for copies: gov.mb.ca/forest/pubs/forest_lands/field_guide.pdf