Fast Facts
piB opBUkWnVB
1 of 39
Of the world's 1,199 World Heritage sites, only 39 are 'mixed' cultural and natural sites like Pimachiowin Aki
1st
Pimachiowin Aki is Canada's first and only 'mixed' World Heritage site and the first World Heritage site in Manitoba
Largest
Pimachiowin Aki is the largest protected area in the North American boreal shield
29,040 sq. km.
Pimachiowin Aki is nearly the size of Belgium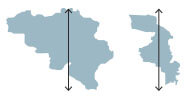 86%
Percentage of Pimachiowin Aki that has been allocated to protection under provincial legislation — larger than any existing protected area in the North American boreal shield
---

4
Number of First Nations in Pimachiowin Aki
Bloodvein River First Nation
Little Grand Rapids First Nation
Pauingassi First Nation
Poplar River First Nation
6,400
Total population of Pimachiowin Aki
0.2
Number of persons per sq. km, compared to 3.988 persons per sq. km in Canada

6,000 – 9,000
Estimated number of tourists to visit Pimachiowin Aki each year
7,000 years
Anishinaabeg have been stewards of Pimachiowin Aki for millennia

---

16.8°C
Average summer temperature

-18°C
Average winter temperature
---

3,200
lakes
5,000
freshwater marshes and pools
32,000 km
of shoreline wetlands
$32 million
According to a 2008 study by the International Institute for Sustainable Development, it would cost approximately $32 million per year in additional wastewater treatment to remove the phosphorous and nitrogen filtered by the wetlands of Pimachiowin Aki.
4
major rivers that range from 165 – 500+ km in length
Poplar River
Berens River
Pigeon River
Bloodvein River
---

1/3
Fraction of the planet's boreal forest found within Canada
7 million
Acres of forest and wetlands

17
Average number of forest fires in Pimachiowin Aki between 2001-2012
---

1,500
Number of scientists from over 50 countries who issued a statement calling on the Government of Canada and provincial governments to do more to protect boreal forests
150
Number of named places researched and documented by Poplar River First Nation and added to the Canadian Geographical Names Database
---

1,200 years ago
Archaeological evidence shows that Anishinaabeg were cooking wild rice in pots over a millennium ago

30+ locations
Hundreds of pictographs (rock paintings) have been documented at over 30 locations across Pimachiowin Aki
Largest collection
The Bloodvein River waterway contains the largest collection of pictographs in Canada
700+
Number of cabin and campsites recorded in Pimachiowin Aki

82%
Most cultural sites documented to date in Pimachiowin Aki are found along waterways
---
Number & Variety of Species

40
mammals

200
birds

90
fish
8
amphibians
3
reptiles
1,000,000,000+
Billions of birds are born in Pimachiowin Aki each year
3
Three herds of threatened woodland caribou live in Pimachiowin Aki, including one of Manitoba's largest herds
10
Pimachiowin Aki is a vital habitat for at least 10 at-risk bird species
180kg
Lake sturgeon, the largest fish in Pimachiowin Aki, is a species at risk
70%
Lynx feed on species such as meadow vole and grouse, or moose and caribou carrion left by wolves, but more than 70 percent of their diet is snowshoe hare
50%
50 percent of all furbearers harvested within Pimachiowin Aki is pine marten
---
Notable predator-prey relationships sustained in Pimachiowin Aki
Wolf – Moose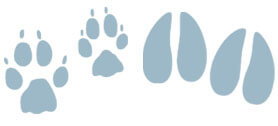 Wolf – Woodland Caribou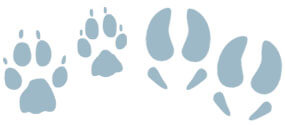 Lynx – Showshoe Hare