Keeping the Land
Education
ooCRfpWnB
Why Education Matters
Education is the foundation of society, as essential as food and water. For millennia, Anishinaabe knowledge has been passed down from generation to generation. It is crucial that today's youth receive the ancient teachings that will allow them to carry on the sacred responsibility of keeping the land.
How Education Helps Keep the Land
Teachers
We provide teachers with access to our extensive library of photos, videos and publications to ensure that local and regional schools have the information and resources they need to incorporate the cultural, natural and educational values of Pimachiowin Aki into their curricula.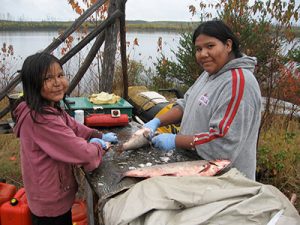 Elders and Youth Forum
Wisdom comes with age and experience on the land. We host regional gatherings that unite youth with Elders who share the aadizookewin (teachings) that make up Ji-ganawendamang Gidakiiminaan (Keeping the Land).
Youth learn by going out onto the land and taking part in activities like fishing, drum making, singing, dancing, canoeing, and leaving offerings. Teachings emphasize that respectful behaviour is required for survival.
I watched my granddad work; he used sticks to trap… he used to lay logs on top of sticks that were sticking straight up from the ground. He also puts rocks on top of those logs. He put a piece of string inside the trap with bait. That was how he made a trap out of wood, something like a little house.

Elder Charlie George Owen, in translation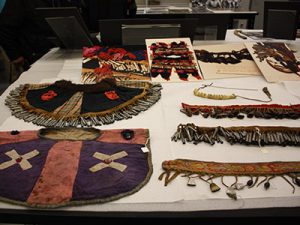 Museums
We want the world to learn and care about Pimachiowin Aki. We work with provincial, national and international museums to promote awareness and understanding of the area's outstanding universal value.
Help keep the Land that Gives Life

Donate