The Land That Gives Life
Water
Xw
Water is sacred. It is the source of life and should be respected and protected. The waterways are like the arteries of Mother Earth and flow along, receiving and depositing nourishment for all plants and animals.

Pauingassi Lands Management Plan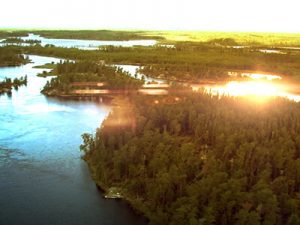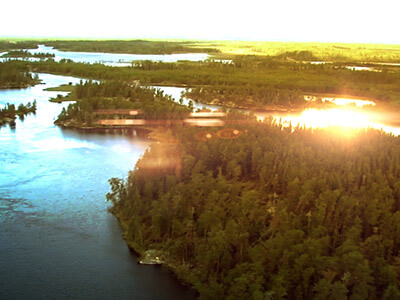 Pimachiowin Aki is a lacework of pristine rivers, streams and lakes with waterfalls and rapids. The waterways are a rarity in North America because they are free of unnatural obstructions such as dams. Pimachiowin Aki may be the last remaining place in the world where traditional manoomin (northern wild rice) harvesting takes place in waterways that are free from the effects of development.

3,200
Number of lakes in Pimachiowin Aki
More Fast Facts
A Source of Food, Water, Medicine and Shelter for All Life
Water carries nutrients, plants, animals and people across the entire Pimachiowin Aki landscape. The rivers and interconnected lakes are the main travel routes, essential to sustaining the Anishinaabe way of life. The many lakes, rivers, streams and wetlands are teeming with fish and are a magnificent natural habitat for Pimachiowin Aki's abundant wildlife.
The Kidneys of the Landscape
Wetlands play an important role in keeping waterways clean and healthy. Pimachiowin Aki has more wetlands than most areas in the boreal biome. These wetlands help filter water that flows into Lake Winnipeg, removing phosphorous and nitrogen. According to a 2008 study by the International Institute for Sustainable Development, it would cost approximately $32 million per year in additional wastewater treatment to remove the phosphorous and nitrogen filtered by the wetlands of Pimachiowin Aki.
Find out how we protect wildlife and habitat

Our Work
Help keep the Land that Gives Life

Donate