The Land That Gives Life
Travel Routes
u wsHouPoB
Through the generations, Anishinaabeg have maintained ancient travel routes on land and water across the entire World Heritage site. These routes are used for hunting, trapping, fishing, gathering plants, and harvesting timber to build cabins and heat homes.
Today, snowmobiles and motorboats make travel efficient, but survival still depends on traditional knowledge of the land — Anishinaabeg travel widely across the landscape to trap, hunt, fish and gather, like their ancestors have for thousands of years.
Skill and Patience
Travel by land and by water requires skill and patience in navigation, boating, canoeing, portaging, snowshoeing, and camping on the land. Anishinaabeg learn these skills at an early age through their experience of living on the land and listening to the Elders.
Waterway Travel Routes
Because Pimachiowin Aki is remote, travel across the landscape has always depended on intimate familiarity with its many waterways.
Waterway travel routes are used year-round, except in fall and spring when ice is forming or breaking up and travel is more dangerous.
Rapids
The rivers of Pimachiowin Aki have many twists and turns, and numerous rapids, chutes, and waterfalls.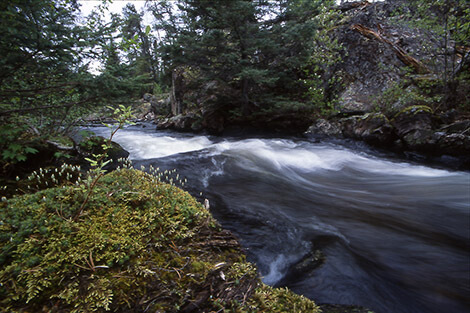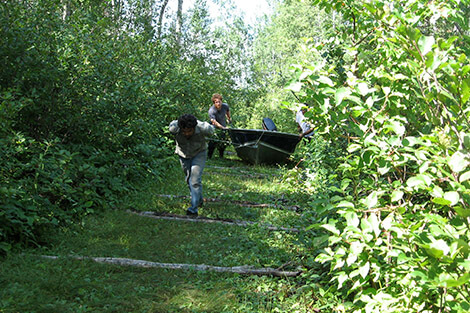 Portages
Waterway travel routes include portages, created and maintained by Anishinaabeg for centuries to bypass these dangers. Because heavier, motorized boats are common today, portages on the main rivers are sometimes lined with debarked logs — boats are rolled over the logs to make portaging easier.
Rocks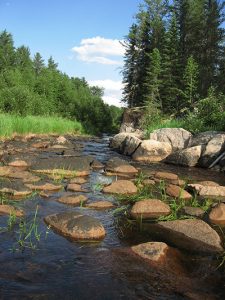 Partially submerged rocks make travel by water potentially dangerous at all times. Some waterway channels have been cleared of rocks to make passage easier and safer during periods of low water.
People from outside Pimachiowin Aki who travel by boat on these rivers today are not likely to know that many formerly narrow and shallow passages were widened and leveled long ago by Anishinaabeg, especially for the freighting of furs and supplies up and down the gete bimishkaawin (cultural waterways).
Winter Trails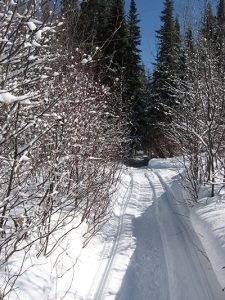 Anishinaabeg once traveled winter trails by dog-team sled. Today, these routes are traveled by snowmobile, making their way through the forest to cabins and campsites, and moving around the land to trap, hunt, fish, and gather wood.
Help keep the Land that Gives Life

Donate