Bloodvein River First Nation
Bloodvein River First Nation is located 235 kilometres north of Winnipeg on the east shore of Lake Winnipeg. It is settled along three kilometres on the banks of the Miskwewe Ziibi (Bloodvein River) and is home to about 1,900 residents.
Name
Bloodvein River is Miskwewe Ziibi in Anishinaabemowin.
Language
The primary language spoken in Bloodvein River First Nation is Anishinaabemowin (Saulteaux, or Ojibwe), which is part of the Algonquian language family.
Travel to the Area
You can fly-in or drive to Bloodvein River First Nation.
A 70-kilometre road links Bloodvein River First Nation to Berens River First Nation, providing year-round travel. The community also has a 3,000-foot gravel airstrip with weekday flights available from St. Andrews Airport.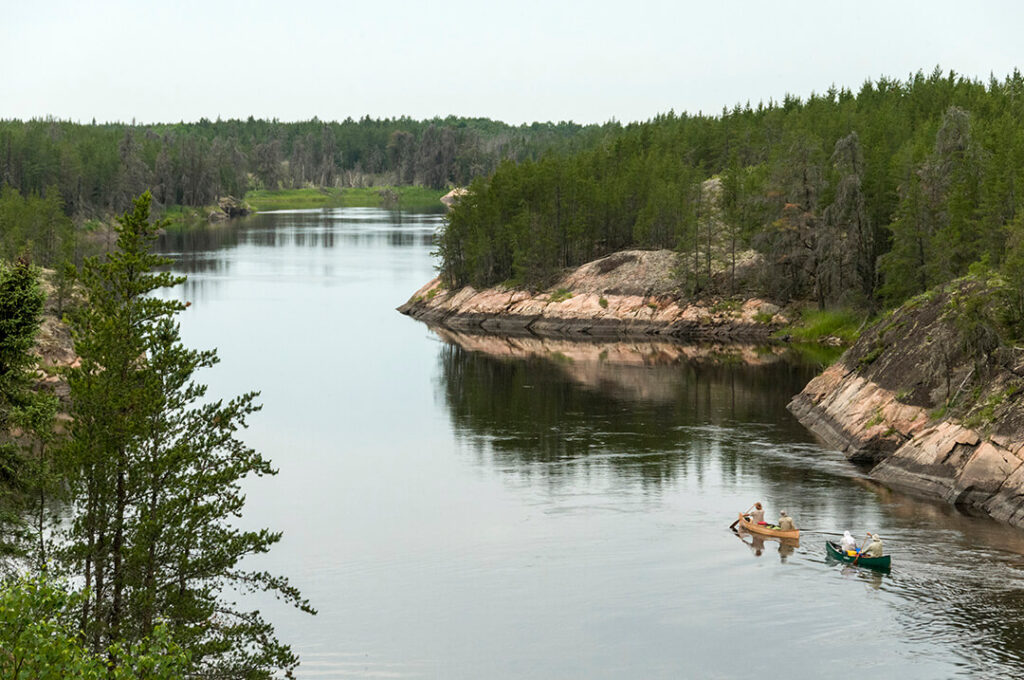 Paddling the Bloodvein River
The Bloodvein River is part of the Canadian Heritage Rivers System. It runs through two provinces and is a paddler's paradise.
From its headwaters near Red Lake, Ontario, the Bloodvein River flows westward for 340 kilometres before reaching Lake Winnipeg. The first 120 kilometres are within the boundaries of Woodland Caribou Provincial Park with mostly flat-water paddling.
Paddling changes dramatically after Artery Lake on the Manitoba section of the river. You will find eighty sets of rapids between Atikaki Provincial Park and the last two hundred kilometres of your journey.
Lakes along the Bloodvein River include Knox Lake, Pipestone Lake and Artery Lake.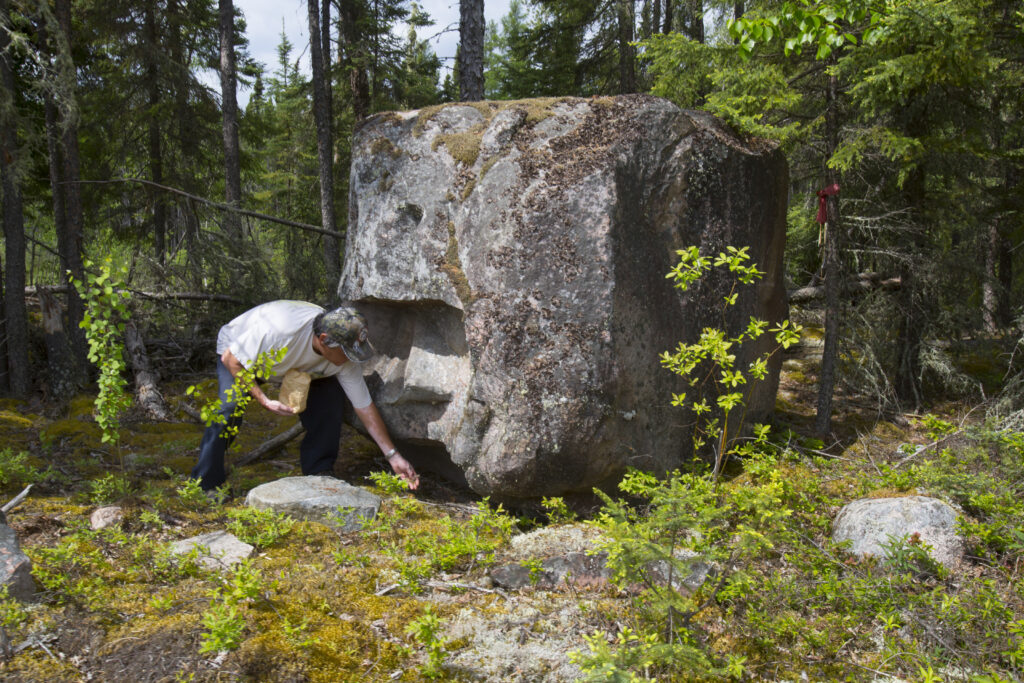 Cultural Sites
Pictographs
The Bloodvein River waterway contains the largest collection of pictographs in Canada. Hundreds of centuries-old pictographs (rock art paintings) have been documented at several locations. Paddling up to one of these incredible and rare images is an amazing experience.
Elder Leslie Orvis of Bloodvein River First Nation suggests making an offering each time you pass by a pictograph. Offerings are left to respect the entities that inhabit the land, and to thank spirits for giving their lives. The offering can be tobacco, a coin or other meaningful object of value.
Sacred Sites
Any visitor planning to visit a sacred site must have prior permission from the Bloodvein River First Nation Chief and Council, Community Coordinator, Community Elder(s) and Guardian, and must be accompanied to the site by a member of the community.
Petroforms, found near Rabbit Point, are ancient rock formations that are sacred. Leaving an offering here is customary.
"On one visit to this area, women were drumming, singing and praying. After the ceremony, one of the three women looked up and there were three eagles circling. They heard our prayers. That's how connected we are to the land, the birds, and all the animals."

William Young, Pimachiowin Aki Director and Co-Chair
Some sacred sites in Bloodvein River hold special significance and are not to be visited or talked about, photographed or pointed at.
There is a large rock, northwest of the community, about five feet wide and six feet high that has a face. This rock has only been shown to a select few and has a flat offering rock in front of it. The rock faces south, to the petroforms, where the Creator sits.
Things to Do in Bloodvein River First Nation
Bloodvein River First Nation is an outdoor enthusiast's dream. Explore the area by canoe or boat, taking in the Anishinaabe culture, beauty and history that surrounds you:
Enjoy fishing adventures
Camp along the river
Cook your freshly-caught fish over an open fire
Experience the awe-inspiring pictographs found along the Bloodvein River
Photograph different types of trees and plants found in the beautiful boreal forest
Visit with an Elder to learn about the area's history, and what it was like to grow up on the trapline and live off the land
Stay at Bloodvein River Lodge for a wonderful fishing experience. You can catch pickerel (walleye), jackfish, catfish, and whitefish
Watch and listen for one of the 220 bird species
Meet with a trapper to learn about trapping
Suggestions from Guardian Melba Green
"In the summer and fall you can go paddling down Long Body Creek or the Bloodvein River. There are rocks that you can stop at to rest and have a picnic or go camping. You can go to Eagle's Nest rapids where eagles are born. You must go inland to see the nests. At the end part of the Bloodvein River, you portage to get to the other side of the river and then walk to see the nests. Everything is natural—the wildlife and trees. You can take photos and breathe fresh air."
Economy
While many residents make a living through commercial fishing and/or trapping, the majority works in health care, social, educational and government services, and sales. Additionally, people work in trades and industries such as transport, manufacturing and utilities.
Amenities & Services
Bloodvein River First Nation includes:
Bloodvein River First Nation Band Office
Miskooseepi School
Child and Family Services
Health Centre
Bloodvein Arena
RCMP Detachment
Bloodvein River Lodge
Cafes and grocery stores
Lagoon
Pumphouse
Blue Garage
Catholic, Mennonite, Pentecostal Churches
Airport
Hydro plant trailer
Fast Facts
About Bloodvein River First Nation:
The Bloodvein River waterway contains the largest collection of pictographs in Canada.
Home to Woodland Caribou, part of the Atikaki-Berens range
Expanses of wetlands are underlain by organic soils from the natural influences of the Leyond and Bloodvein Rivers
Historically, wild rice (manoomin) was part of the local diet and was used in ceremonial feasts
A new nursery to grade 10 school is under construction to be completed in 2021
Bloodvein River First Nation has a Trappers and Hunters Committee
Commercial Fishers fish mostly pickerel and northern pike
Protecting the Land
Read the Bloodvein River First Nation Land Use Plan for details on how ancestral lands of the Bloodvein River First Nation are managed according to Anishinaabe values and management systems and western knowledge.
Sources: Southeast Resource Development Council Corp. (SERDC)
https://pimaki.ca/wp-content/uploads/Bloodvein-First-Nation-Land-Use-Plan.pdf