Meet Our Guardians
Colin
I spoke at a conference for the first time in front of many people. It was difficult at first but I'm getting more confident now.

Colin Owens, Guardian, Pauingassi First Nation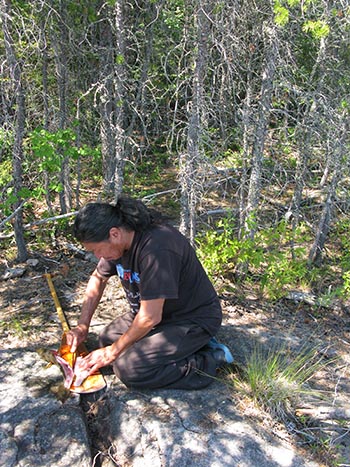 Where were you born?
My birth certificate says Little Grand Rapids, but I grew up in Pauingassi.
What are your earliest memories of keeping the land that prepared you for your work as a Guardian?
My father and I used to go out trapping. The whole family would go in spring and fall to the trapline. He showed me how to set the traps and where to set the traps. We used to walk. Today they take the snowmobile or boats with motors. We also went together to pick the wild rice.
As a Guardian, what are some of your responsibilities?
Working with the community to ensure that people aren't being wasteful or destroying anything like cutting down trees or killing animals and leaving them behind. Also, the fishing nets have to be checked every day otherwise it's a waste of fish. In the summertime on a hot day, the nets have to be checked twice a day, or the fish go soft and are spoiled.
How has becoming a Guardian benefited you?
We share knowledge at the meetings, so I have learned a lot. I spoke at a conference for the first time in front of many people. It was difficult at first but I'm getting more confident now.
What are your goals as a Guardian?
We're planning on having a meeting soon with the trappers. I want to talk to them about what animals they have trapped or hunted and how many. This will help us to keep a record of the animal populations.
How can people in your community help you keep the land?
We ask the community to not throw garbage into the water. We find drink cans and other waste and we talk to them about it.
What is your favourite way to spend time on the land when you are not at work?
I like going out on the land to the trapline where we built a cabin. I like to take pictures when I go out there.
What is your favourite traditional food?
Smoked whitefish in the summertime. Also, fish, moose meat and duck, rabbit and beaver sometime. My parents taught me how to smoke whitefish. They would smoke them while we were fishing here in the lake close to Pauingassi.
Click on a Guardian to read their interview: