Keeping the Land
Guardians Program
WnSWnBUn p VuSSpRnY
Pimachiowin Aki's Guardians program is similar to the highly successful Indigenous Guardian programs that operate across Canada. Anishinaabe men and women work with Elders and other community members to record customary laws and governance approaches, and travel across Pimachiowin Aki, as the eyes and ears of the lands and waters, to help us accomplish our stewardship goals.
Why Guardians Matter
Indigenous Guardians programs strengthen our communities. They create jobs, lower crime rates and improve public health. But most importantly, they inspire our young people. They connect them to the land and their Elders. They give them professional training tied to their language and culture. That offers hope that can combat the despair so many Indigenous youth feel today.

Valerie Courtois, Director, Indigenous Leadership Initiative
How Guardians Keep the Land
Guardians are stewards who keep Indigenous knowledge alive. They observe, record and report on the health of ecosystems and cultural sites, and share their knowledge or concerns with communities, visitors, stakeholders and partners. The Guardians' activities include:
Observe activities or changes of note, such as wasteful hunting or the spread of an invasive plant, and respond accordingly
Talk to visitors and community members, including trappers and people who are on the water, to raise awareness of the need to protect Pimachiowin Aki
Draw on land-based knowledge to monitor indicators of the cultural landscape and ecosystem health
Educate the public about things they can do to be good stewards of the land
Report information, such as a wildfire or illegal activity, to relevant authorities
Care for cultural sites, such as removing litter and making offerings
Work with knowledge-holders to establish agreements on how the monitoring results can be stored and used
Meet Our Guardians
We are Anishinaabe men and women who travel across Pimachiowin Aki as the eyes and ears of the lands and waters. We carry on the traditions of our ancestors to protect and preserve this special place for future generations.
A movement is growing up from the land, from the Elders, from the youth, and from a new crop of women leaders, calling for Indigenous leadership on the land.

Valérie Courtois, Director, Indigenous Leadership Initiative
Click on a Guardian to read their interview: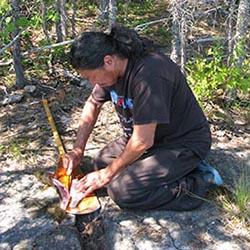 Help keep the Land that Gives Life

Donate