Keeping the Land
Wildlife and Habitat
RQnlRny QBULuRnY
We all fit side by side on this circle of life, depending on each other for life. No one is more important than the other. That is why we have a strong relationship with all life.

Elder Albert Bittern
Why Wildlife and Habitat Matter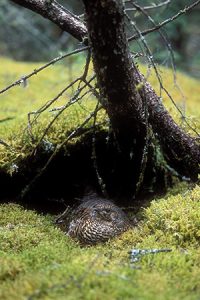 Plants and animals make life possible and beautiful. We all depend on them for food, medicine, livelihood, shelter, and cultural expression. They enrich our lives and inspire us with their humility, fascinating relationships, and remarkable abilities.
To protect wildlife, we must protect their habitat — the natural spaces for plants to thrive and for animals to eat, take shelter, and raise their young.
Every plant and animal is a gift from the Creator and plays an important role in the ecosystem; each a part of the natural, symphonic flow of life that has continued across Pimachiowin Aki for millennia.
Every living thing, including the smallest insect, was given a job to do, to make sure the life our Creator made will always be there.

Elders Abel Bruce and Albert Bittern
How We Protect Wildlife and Habitat
Land Management Planning
Pimachiowin Aki and adjacent areas are planned for, managed and used in ways that protect and preserve the boreal forest and the cultural landscape. Pimachiowin Aki is a safe haven for many species including imperiled birds, mammals and fish.
The number of plants and animals across Canada is in decline, largely due to loss of habitat and habitat fragmentation.
Habitat is a life source. When it is destroyed, species become extinct. Habitat fragmentation can also lead to extinction. Breaking a habitat into pieces is like breaking your home into individual rooms and spreading them across your neighbourhood — life becomes more difficult, and in some cases, more dangerous. Pimachiowin Aki provides habitat connectivity and biodiversity conservation at a landscape scale.
Through First Nations' community land management planning, 87% of Pimachiowin Aki has been allocated to protection under provincial legislation — larger than any existing protected area on the North American boreal shield.
The entire Pimachiowin Aki landscape is protected from large-scale industrial development including logging, mining and hydroelectric generation and transmission. Its waterways are free of dams and diversions. Infrastructure is limited here. We have a few power distribution lines, winter roads and an all-season road that­­­ links Bloodvein First Nation to Manitoba's provincial highway.
Monitoring Wildfire
We monitor wildfire patterns and provide information to help scientists interpret the connection between wildfires and climate change.
Tracking Imperilled Species
We track the populations and movements of imperilled species like the woodland caribou and lake sturgeon, and help develop strategies to protect them.
Promoting Sustainable Harvesting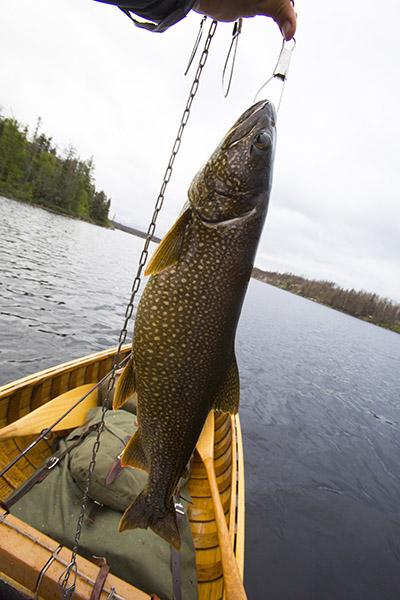 We research cultural keystone species that are important food sources for First Nation communities. Our goal is to ensure that food sources like moose and wild rice continue to thrive. We encourage First Nation communities to conduct annual needs assessments:
To maintain fish and wildlife populations, essential ecological processes and diversity
To determine what and how much is needed to harvest for subsistence and societal needs
To identify any surplus beyond these that may be allocated to sustainable licensed hunting and fishing
Help keep the Land that Gives Life

Donate