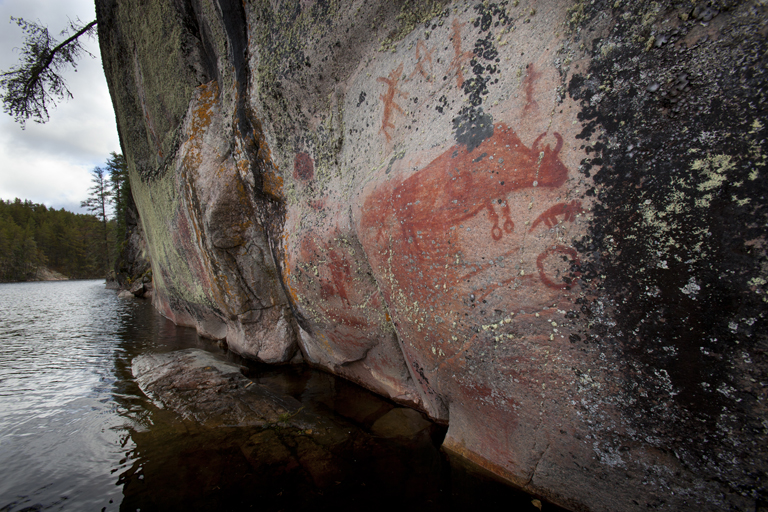 Au long de la rivière Bloodvein, à Pimachiowin Aki, se trouve la plus grande collection de pictogrammes au Canada. Des centaines de pictogrammes (peintures rupestres) millénaires ont été documentés à plus de 30 endroits, dont sur cette falaise du lac Artery ornée d'empreintes de mains et de dessins d'animaux, de canots, de serpents, et d;autres symboles, faits avec une pâte d'ocre rouge et d'huile de poisson ou de graisse d'ours.
Voir l'une de ces rares peintures de plus près est tout simplement époustouflant. D'après l'auteur et chasseur de pictogrammes canadien Selwyn Dewdney, ces endroits particuliers le long de la rivière Bloodvein offrent une « expérience exceptionnelle », et les pictogrammes sont la « récompense ultime ».
L'aîné Leslie Orvis de la Première Nation de Bloodvein propose de faire une offrande pour chaque passage devant un pictogramme.
Voici plus de détails sur cinq pictogrammes spectaculaires de Pimachiowin Aki.
1. Orignal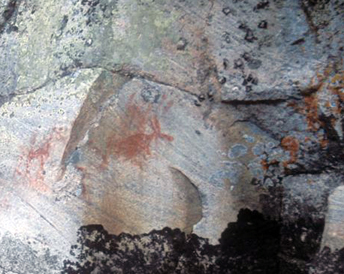 Récemment, William Young, coprésident du conseil d'administration de la Pimachiowin Aki Corporation, a emmené l'aîné Leslie Orvis là où se trouve le pictogramme de l'orignal sur la rivière Bloodvein. Selon Leslie, ce dessin est un symbole de respect.
« Respectez la terre », dit Leslie avant de répéter les paroles de l'aîné Kenneth Owen, soit « Pour chasser l'orignal, il faut d'abord faire une offrande de tabac pour que la chasse soit un succès ».
Leslie et d'autres aînés de la Première Nation de Bloodvein River veulent enseigner aux élèves de la région l'histoire, la culture ainsi que la langue anishinaabe. Ils créent un programme qui sera intégré au curriculum scolaire après la construction de la nouvelle école de la communauté.
2. Martins-pêcheurs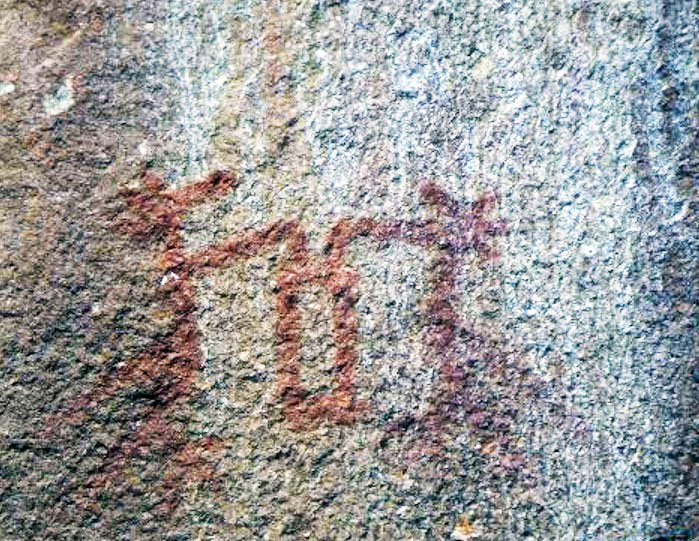 Dans certains cas, les spécialistes suggèrent que les Anishinaabeg ont fait les pictogrammes pour souligner de grands moments de leurs vies ou des associations entre certains clans et les régions qu'ils utilisent à des fins traditionnelles et cérémonielles. Ce pictogramme du lac Sasaginnigak illustre deux martins-pêcheurs, l'un des emblèmes de clan des Anishinaabeg de Pimachiowin Aki
Le pictogramme des martins-pêcheurs a probablement été fait au début des années 1800 par des membres du clan éponyme qui hivernaient au lac Sasaginnigak, le lac faisant partie de la zone de récolte de leurs familles (Petch 2010).
3. Bison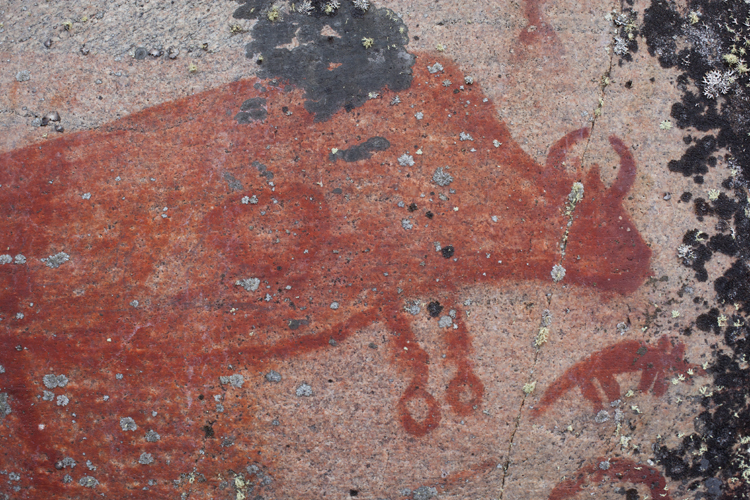 Le bison dans ce pictogramme se distingue par ses sabots ronds et le tracé foncé qui semble indiquer son cœur.
Dans les années 1950, Selwyn Dewdney, guidé par des aînés ojibwés, a commencé à étudier les pictogrammes du Bouclier canadien. Dans son livre, « Indian Rock Paintings of the Great Lakes », il nomme ce pictogramme le « Bison de Bloodvein » (Bloodvein Bison) et le décrit comme ayant des proportions magnifiques.
Dans le livre susmentionné, corédigé avec Kenneth E. Kidd, on suggère que le pictogramme est à 100 milles au nord de l'endroit où les troupeaux de bisons erraient autrefois, et que la personne qui l'a fait provenait de la région ou avait parcouru une longue distance pour venir chasser à cet endroit.
4. Chaman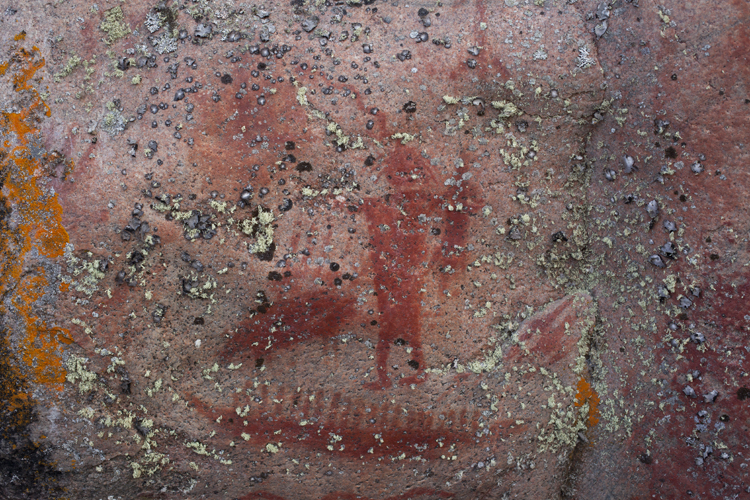 Selwyn Dewdney a donné à ce pictogramme le nom de « Chaman de Bloodvein » (Bloodvein Shaman). Le chaman tient un sac à médecines. M. Dewdney note que les zigzags au-dessus de la tête du chaman sont visibles dans d'autres pictogrammes et sont souvent interprétés comme des pensées ou des pouvoirs magiques. Il ajoute que « le grand canot en dessous du chaman et le porc-épic à gauche pourraient représenter les prouesses de combat ainsi que le clan du chaman ».
5. Gigoteurs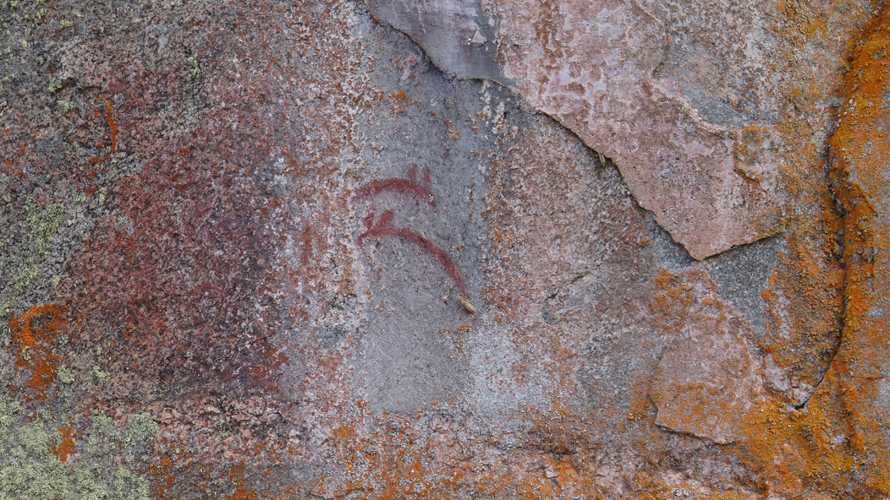 Pour désigner ce pictogramme, M. Dewdney parle de « deux curieux gigoteurs » (two curious wigglers) sans toutefois donner de détails sur ce qu'ils représentent. Dans le blogue « Ramblin' Boy », l'auteur True_North suggère que les gigoteurs pourraient être une représentation du serpent de médecine.
Beaucoup des dessins de Pimachiowin Aki représentent des animaux et des personnes qui sont probablement inspirés d'esprits puissants et d'expériences vécues par l'artiste. Chaque pictogramme a sa propre signification. L'archéologue Jack Steinbring a écrit que « C'est souvent un rêve ou une vision, parfois causé par un jeûne ou un effort de concentration prolongé, qui donne naissance à l'image ».
Comment les gardiens de Pimachiowin Aki aident à préserver les pictogrammes
Les pictogrammes spectaculaires de Pimachiowin Aki sont bien préservés. Les gardiens s'occupent d'enlever les déchets au site et sensibilisent également les gens à l'importance de respecter les pictogrammes (de laisser des offrandes, de ne pas toucher ou mouiller les pictogrammes, etc.).
Nous ne savons pas la vitesse du processus de détérioration naturelle des pictogrammes. La plus grande menace à leur préservation est probablement l'empiètement du lichen.
Pour trouver les pictogrammes de Pimachiowin Aki
Les pictogrammes sont généralement sur les parois rocheuses abruptes qui surplombent les voies navigables de la forêt boréale.
Ils sont habituellement dans des endroits associés à des esprits puissants, par exemple près d'un cours d'eau, aux intersections entre le ciel, la terre et l'eau, sous terre ou sous l'eau.
Tous les emplacements des pictogrammes n'ont pas à être révélés.
« Il y a, à Dogskin, des peintures rupestres considérées comme sacrées parce que les gens de Little Grand Rapids croient qu'elles ont été faites par les Memegwesiwag (petits gens des roches) qui ont participé à la création et existent depuis le tout début. » – Joseph Levesque, Sr. (en traduction, 2014)
Pour communiquer avec les Memegwesiwag, les Anishinaabeg vont là où se trouvent certains pictogrammes et y font une offrande en signe de respect avant de demander de l'aide pour un voyage ou une chasse.
« Il existe [sur une certaine rivière] une peinture rupestre d'une tortue serpentine. Quand quelqu'un passait devant, il hachait du tabac et, mettant le tabac dans sa pipe, disait 'Je vais tuer un orignal'. Et c'est exactement ce qui arrivait, la personne avait reçu la bénédiction de tuer un orignal. » – l'aîné Kenneth Owen de la Première Nation de Pauingassi (en traduction, 2007) explique l'importance d'un certain pictogramme pour communiquer avec les Memegwesiwag qui ont fait la peinture.
Pour obtenir plus d'images de pictogrammes, y compris un lien vers la version numérique du livre de Selwyn Dewdney et de Kenneth E. Kidd, cliquez ici :
https://archive.org/details/indianrockpainti00dewd/page/n1/mode/2up (anglais seulement)
Anishinaabe Pictographs On The Bloodvein: The Artery Lake Site (anglais seulement)
Sources
Selwyn Dewdney et Kenneth E. Kidd, Indian Rock Paintings of the Great Lakes
Jack Steinbring, Rock Paintings in the Eastern Lake Winnipeg Watershed Pimachiowin Aki Cultural (document de discussion)
Virginia Petch, Cultural Landscape – Macro Scale Document, août 2010