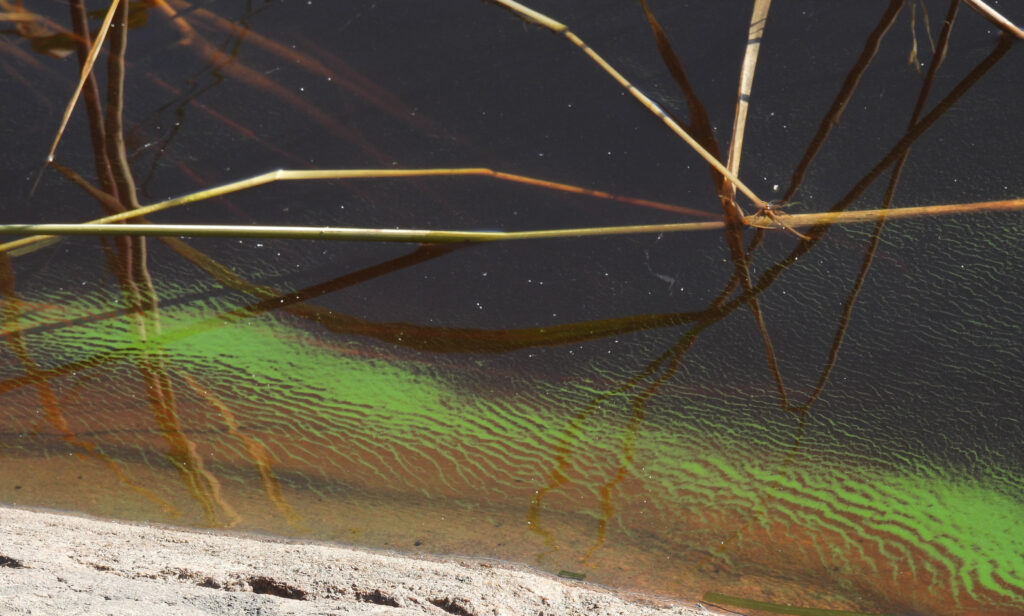 Water is sacred. It is the source of life and should be respected and protected. Waterways are like the arteries of Mother Earth and flow along, receiving and depositing nourishment for all plants and animals.

Pauingassi Lands Management Plan
Pimachiowin Aki is known for its pristine waters. Rivers, streams, lakes, waterfalls, and rapids flow gracefully through the World Heritage site while sustaining the ecosystem and the Anishinaabe way of life.
Water is life—a food provider, wildlife habitat, a hydration source, and travel route. Its health is crucial.
Bloodvein River First Nation Guardian Melba Green spotted algae in Pimachiowin Aki in 2021 and wants everyone to help keep an eye out for this potential hazard this summer.
"I saw it right behind my house at the water's edge in the Bloodvein River," she says. She immediately took a picture. "I mentioned it to someone here and they suggested I take a sample. However, when I went back the algae was no longer there."
Melba also saw what looked like harmless green weeds further up river and later wondered if this, too, was algae. Richard Farthing-Nichol, Project Manager at Centre for Indigenous Environmental Resources says "while algae is a natural part of the Bloodvein River ecosystem, excessive algae could be a problem and is something to watch out for." Algal blooms are more common in the south end of the Lake Winnipeg, but can happen anywhere, he says.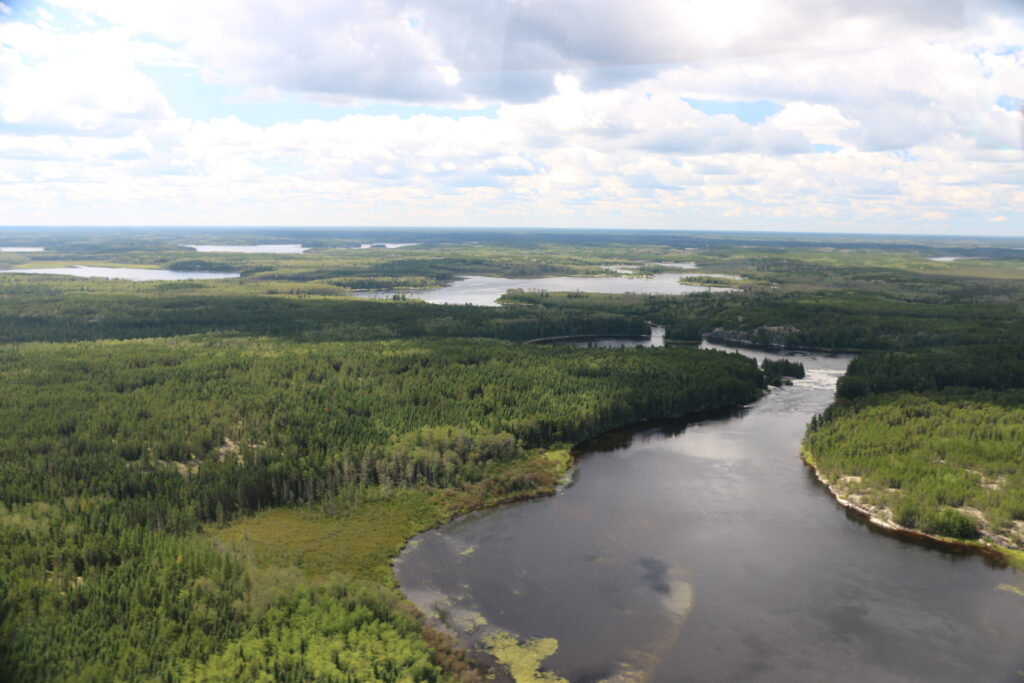 Why algae can be dangerous
Algae is a natural part of the environment. It can be found in any body of water. Richard explains that algae provide food for small water organisms and supplies much of the oxygen we breathe. But too much algae can be a problem, he cautions.
"Some types of blue-green algae found in algal blooms can be toxic to humans and animals. Also, when algae die, they decompose and use up oxygen that other organisms need to survive. This can impact entire food chains and lead to fish die-offs," he says.
Melba recalls an encounter with a fisherman in Bloodvein River First Nation two years ago. "He was concerned about fishing in the lake because the water was "sticky." She has heard this same description from others. "An Elder said that when you pull your hand out of the lake, your hand is sticky. When people pull their fishing nets from the water the sticky stuff is on their nets."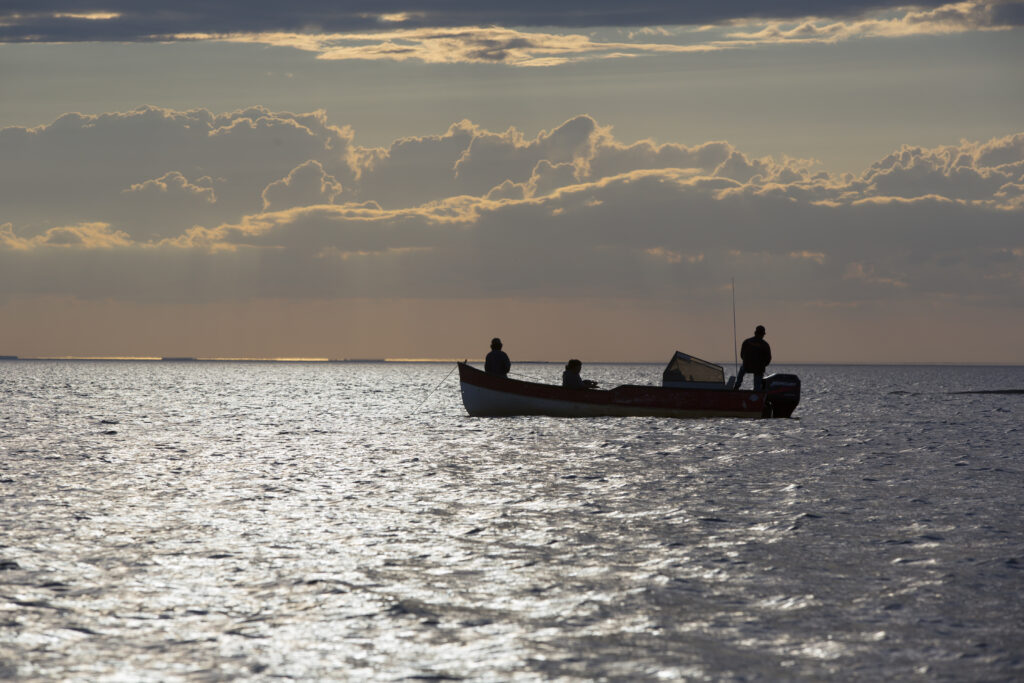 Certain algae hurt the environment and economy by:
Producing toxins that can kill or sicken people and animals
Creating "dead zones" in water—areas lacking oxygen that become uninhabitable for marine life
Raising costs for drinking water as drinkable water becomes more scarce
Impacting industries that require clean water
These hazards show why it's crucial to identify toxic algae if we plan to keep the environment and economy healthy and thriving.
How to spot toxic algae
Not all algae are toxic. The kind to watch out for is blue-green algae or cyanobacteria. The physical appearance of blue-green algae varies, which makes it difficult to identify. Richard explains, "Algal blooms are generally green and often form floating clumps or scums, sometimes making the water look like thick pea soup or paint. They also emit a strong, unpleasant odour. A laboratory analysis is the only way to tell if an algal bloom is toxic. "It is best to exercise caution and treat all algal blooms as if they contain toxins," Richard warns.
Melba reports that she has been "in and out from the Bloodvein River and has not spotted algae yet this year. If she sees it again, she will "carefully take a sample and give it to the nursing station, which will send it to water sampling experts."
Algae can be found in wide range of habitats beyond lakes and rivers, including in soil, growing on rocks and snow, and in plants such as lichens.
"When young ones and teenagers see wildlife or something unusual on the water or land, they come and tell me. I plan to learn more about algae and make a presentation to the school so they know what to look for," says Melba.
Richard explains how algae affects communities, including places like Pimachiowin Aki, where fishing is a livelihood:
"Algal blooms, and especially toxic blue-green algae, can negatively impact communities in many ways. Algal blooms can make beaches unpleasant and unsafe for swimming, clog water intake pipes and fishing nets, and reduce the amount of fish available for harvesting."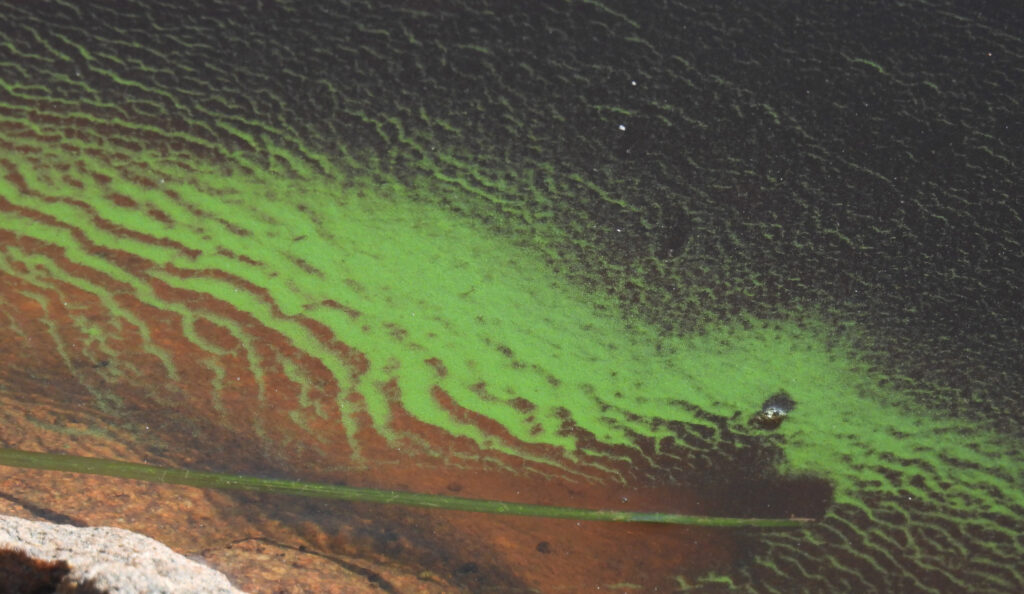 What to do if you spot algae this summer
In Manitoba
Report algal blooms to the province at the following website: https://forms.gov.mb.ca/algal_report/index.html
In Pimachiowin Aki
The protocol for reporting toxic algae in Pimachiowin Aki is the same as the protocol for reporting pollution, littering, accidents, forest fires, and other threats to the land:
Take a photo or video
Write down details (such as where you are located and what you see, including the algae's size, shape and colour)
Call the nearest administrative office:
| | |
| --- | --- |
| | |
| Bloodvein River First Nation | 204.395.2148 |
| Little Grand Rapids First Nation | 204.397.2264 |
| Pauingassi First Nation | 204.397.2371 |
| Poplar River First Nation | 204.224.2267 |
| Manitoba Department of Agriculture and Resource Development | toll-free 1.800.282.8069 |
| Ontario Ministry of Natural Resources and Forestry | toll-free 1.877.847.7667 |
Inform as many people as possible
Tell everyone you know about the dangers of harmful algal blooms. There's no such thing as too much help for a problem like this. Spread the word for the health of Pimachiowin Aki's waters and the protection of the Anishinaabe way of life.
Q&A with Richard
1. What causes algae?
Algae, like all plants, need sunlight and nutrients, primarily phosphorous and nitrogen, to grow. Phosphorous and nitrogen are found naturally in the environment, but humans also use phosphorous in fertilizers that we apply to our gardens and farmland. Phosphorous is also found in wastewater. When too much phosphorous gets into the water by, for example, fertilizer running off farmland into nearby streams, algae can grow rapidly and create algal blooms. Algal blooms are most likely to occur in hot weather with little or no wind.
2. Is it safe to go into the water and swim if I spot algae?
You should avoid swimming in water with algal blooms.
3. Does boiling water remove toxins from algae-contaminated water?
No, the toxins cannot be destroyed by boiling the water.
4. Is it safe to eat fish or wildlife if the water in my community is affected?
It should generally be safe, but you should take some precautions. Because algal toxins can accumulate in fish, you should avoid eating the internal organs, like the liver and kidneys, of fish caught in water experiencing an algal bloom. You should also pay close attention to the condition of the fish—if it appears unhealthy, do not eat it.
5. Pimachiowin Aki is part of the largest stretch of intact boreal forest on earth. How does the boreal forest purify water?
Nature is extremely good at looking after itself if given the opportunity. The roots of trees and other plants can absorb excess nutrients and other toxins from water and soil, which helps purify the water. Some aquatic plants like cattails are particularly good at removing nutrients such as phosphorous from the water. This is one of the many reasons that healthy wetlands are so important. The boreal forest is full of wetlands that are helping purify the air, water, and fight climate change, not to mention providing food and medicines for people and habitat for other creatures.
6. What actions can I take in my everyday life to be part of the solution?
Reducing the amount of phosphorous that you use is the best thing you can do in your everyday life to be part of the solution. You can do that by not fertilizing your yard (or by using phosphorous-free fertilizer), using cleaning products (such as dish soap and detergent) that are phosphorous-free, and not disposing of pharmaceuticals, food, or chemicals down the drain.
For a list of actions you can take to protect water and ensure we have fresh water for generations to come, visit: https://www.lakefriendly.ca/.