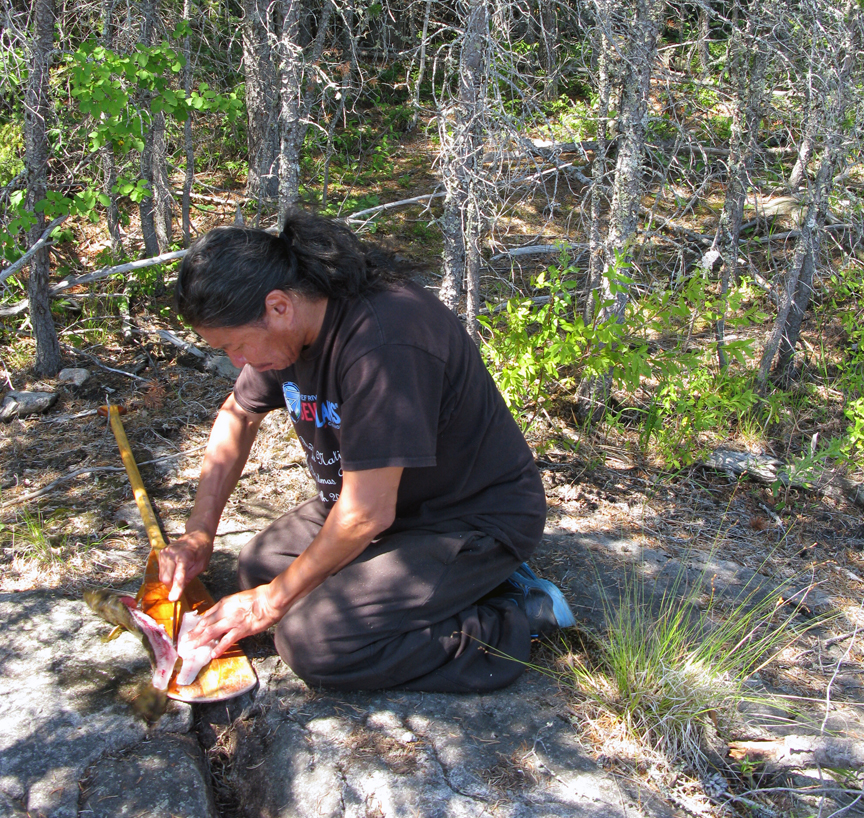 Anishinaabeg were placed on the land by the Creator and have a sacred responsibility to care for it, guided by the principles of Ji-ganawendamang Gidakiiminaan (Keeping the Land). Keeping the Land includes making sure that the traditional knowledge that has been passed down for generations is never lost.
Pimachiowin Aki Guardian Colin Owens lives by these words and is working to share his knowledge with youth in his community of Pauingassi. He is an experienced trapper and fisher who is on the land year-round. 
Fishing is an important skill to have. Children in Pimachiowin Aki are fishing with a rod from about the time they can walk. Summer for youth in communities across Pimachiowin Aki may be a vacation from school, but that doesn't mean it's a break from learning. Last month, Colin took students from the Pauingassi school out on the water to show them how to fish using nets—his favourite way to catch whitefish as soon as they start swimming, in June. Whitefish, filled with nutrients and medicine, are important to the community, Colin says.
This fall, Colin will be busy monitoring hunting activities "to make sure the hunters are not being wasteful," he says. He will also spend more time with the students, teaching them how to harvest ducks and smoke fish.
An important teaching that Anishinaabeg pass down to the next generation is showing respect for animals that have given up their lives. This is done by ensuring that no part of a harvested animal is wasted and by gibimi-giiwewatoon (giving something back to the land) after harvesting. For example, hanging duck wings in trees to respect the spirit of the harvested animal.
Guardians are stewards who keep Indigenous knowledge alive. They travel across Pimachiowin Aki, acting as the eyes and ears of the land and waters as they monitor the health of ecosystems and cultural sites. Guardians share their knowledge and concerns with authorities, community members and visitors.
Pimachiowin Aki's Guardians program is similar to the highly successful Indigenous Guardian programs that operate across Canada. There are Guardians in the four First Nation communities of Pimachiowin Aki. Colin Owens has been the Guardian in Pauingassi First Nation since 2017, and was the Resource Assistant to the First Nation's Lands Coordinator for many years before then.
Learn more about Pimachiowin Aki Guardians