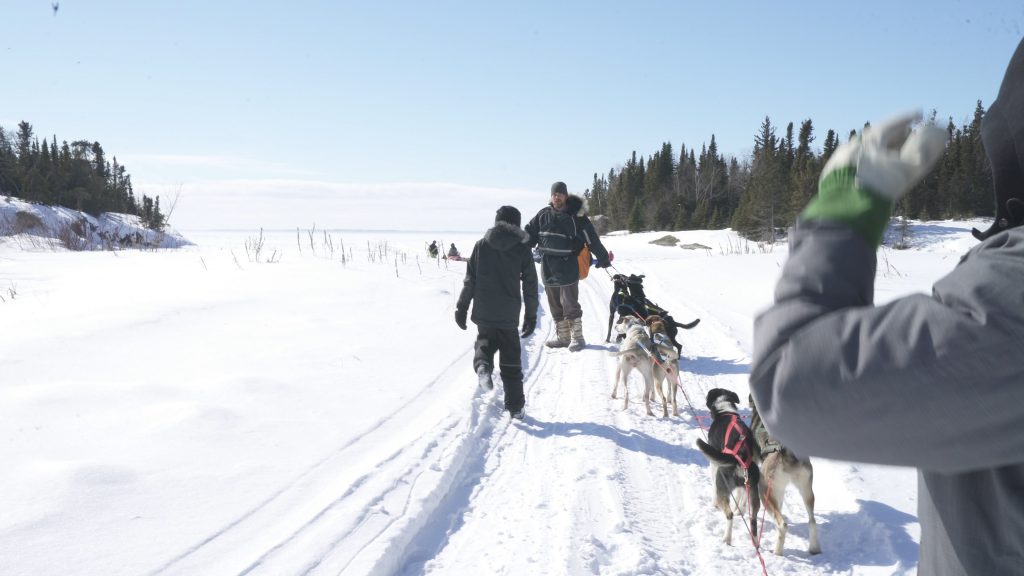 Surrounded by the expansive boreal forest and the soft sounds of canine paws on snow, Sidney Klassen glides through Bloodvein River First Nation behind his team of dogs. Mr. K, as he's known to students at Miskooseepi School, is providing a "hands-on experience for the kids to be out in nature." Dog sledding is part of the school's newly-formed Land-Based Learning program.
"We take the dogs out and I show students how to handle them, how to bring them to the truck and bring them to the staging area where we launch," Sidney explains. Students practise getting the sled ready and hooking up the team. They also learn parts of the sled, like rigging and lines. But their learning runs deeper than physical skills.
"The kids learn about the connection between the dogs and humans when they take care of the dogs," says Sidney. "They develop responsibility. The implications for learning are endless."
Who is Sidney Klassen?
Sidney is a former physical education teacher. He has grown to love his new role as Land-Based Instructor but he's not comfortable with the title. "I'd change Instructor to Coordinator or Facilitator," he says. 'Instructor' is more suitable for a local, not a former Winnipegger like him, he explains.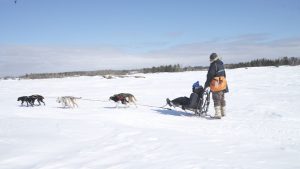 "I'm not from Bloodvein River First Nation and I don't know the land like the locals do."
Sidney works closely with teachers and residents of the Manitoba First Nation community to connect traditional knowledge to classroom learning.
"The goal is to get the kids outside on the land, in the bush behind the school, out on the river in canoes, or on hiking field trips," he says. It's all part of learning science, social studies and mathematics in new ways.
From the Circus to Teaching
Sidney became a teacher at age 39, after an unusual career route.
His inspiration to teach started when he "ran away with the circus."
Years ago, Sidney worked as the crew chef with the Caravan Stage Company, a traveling circus on a tall ship sailing boat. "The pirate ship theatre was started by two old, card-carrying hippies and it led me to look at my life and chase my dreams. I thought that if they can build a hippy pirate ship, I can do what I want to do."
What he wanted to do was teach.
How Sidney Started Dog Sledding
He left the traveling circus with a plan to go to university. But first, he took a trip to the Yukon. The trip sparked a new passion. "I took up dog sledding and fell in love with it. I was working for an esteemed champion dog musher and he taught me about dog mushing. I loved being able to see beautiful territory, and I loved the interaction between the humans and dogs."
When he returned to Winnipeg for university, Sidney formed a dog sled team of his own. With his two dogs, and sometimes a friend's dog, he traveled the city's river trails. He had no idea that his love of dog sledding would one day carry into his classroom in Bloodvein River First Nation.
"When I got to Bloodvein, I wanted to start a dog team," he says. "I put together a fundraiser to raise funds for equipment and got started."
The team began with six dogs donated by Kevin Lewis who runs the Cree cultural immersion camp in Saskatchewan called kâniyâsihk Culture Camps.
Showing Students the Ropes
The dogs live with Sidney. He has a kennel with doghouses behind his home. "I take students on a tour of the kennel to meet the dogs. I show them how the kennel is set up, and how to care for them."
Sidney also takes students dog sledding along Indigenous travel routes. The trip includes Ojibwe teachings from an Elder and local trapper.
"Gabriel Green, drives ahead with his snowmobile and takes us down his trapline," Sidney shares. "He pulls a cargo toboggan behind his snowmobile. The students take turns driving the dog sled or riding in the sled or the toboggan."
Stopping at designated spots, Gabriel shows his traps and tells stories about the dog team that he had years ago. "Having that platform for Gabriel to share his knowledge and stories is really great," says Sidney. "We tie-in classroom learning and we're getting the kids out into nature, over the river and on the trail."
Students enjoy the adventure. "Just being out on the sled with the kids, even though they might be acting cool at the time, I know they're excited," says Sidney. "It's a beautiful, sunshine-y day, running through a beautiful trail…one of the best feelings ever for me."
"Word gets around that Mr. K has a dog sled team and takes kids out sledding," says Sidney. Students like to share stories about their experience of driving the dog sled on their own, he adds.
Each trip includes eight to 10 students from grades four to nine. "Last winter we were out with the kids about five or six times," Sidney says. The most recent trip was in March, before COVID-19 school closures.
Other Land-Based Learning Activities
The Land-Based Learning program involves more than dog sled education.
"One of my highlights every year is the overnight trip to the Manitoba Museum," Sidney reflects. The Miskooseepi students spend an overnight inside the museum. It includes a behind-the-scenes tour of the curator's room to view artifacts from Pauingassi First Nation. Students learn about the importance of protecting their cultural heritage.
"These are items from their culture. They learn that their culture is significant and valued by the world."
Knowledge keepers like Culture and Language teacher Yvonne Young take students out on the land where they learn to identify plants and pick medicine. They also learn how to use plants, like offering tobacco.
Last winter, a few students took an ice fishing day trip. "We're fortunate to have William Young be a part of the program. He had ice fishing equipment donated and took us to Round Lake to go ice fishing," Sidney says.
"The kids have their Anishinaabe culture in their blood," he says. He notes that many students can teach him about hunting, fishing and living off the land. "They go out with their fathers, uncles, grandfathers or aunts, and they have a lot of knowledge."
Due to the COVID-19 pandemic, instructors and students are now doing remote learning. Sidney is running logistics, getting homework packages delivered and monitoring social media. He plans to set up a spot this winter so that students can get out onto the land. "We'll have the ice fishing shacks, cross-country skis and snowshoes, and let the kids use them."