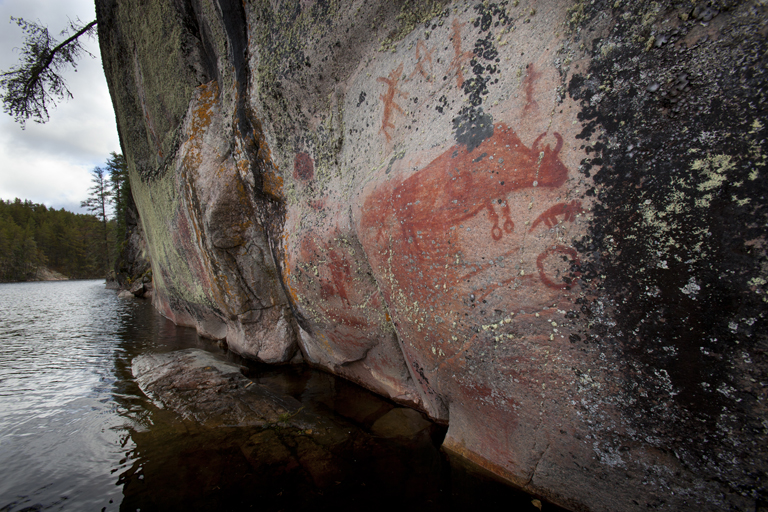 The Bloodvein River waterway in Pimachiowin Aki contains the largest collection of pictographs in Canada. Hundreds of millennia-old pictographs (rock art paintings) have been documented at over 30 locations, including this cliff face on Artery Lake, beautified with handprints, animals, canoes, snakes, and other symbols painted with a paste made of a red ochre and fish oil or bear fat.
Paddling up to one of these rare images is nothing short of awe-inspiring. Canadian author and pictograph-hunter Selwyn Dewdney called these particular sites along the Bloodvein River a "rare experience" and a "supreme reward."
Elder Leslie Orvis of Bloodvein First Nation suggests making an offering each time you pass by a pictograph.
Here's a close-up look at five spectacular pictographs in Pimachiowin Aki:
1. Moose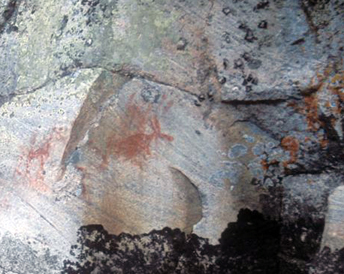 Recently, Pimachiowin Aki Board Co-Chair William Young took Elder Leslie Orvis to the site of this moose pictograph on the Bloodvein River. Leslie believes that the message behind this drawing is of respect.
"Respect the land," he says. He then echoes the words of Elder Kenneth Owen—"If you are looking for moose to hunt, you put down tobacco in order to have a successful hunt."
Leslie and other Elders in Bloodvein River First Nation aim to teach local students about Anishinaabe history, culture, and language. They are developing a program that will be a part of the curricula after the community's new school is built.
2. Kingfishers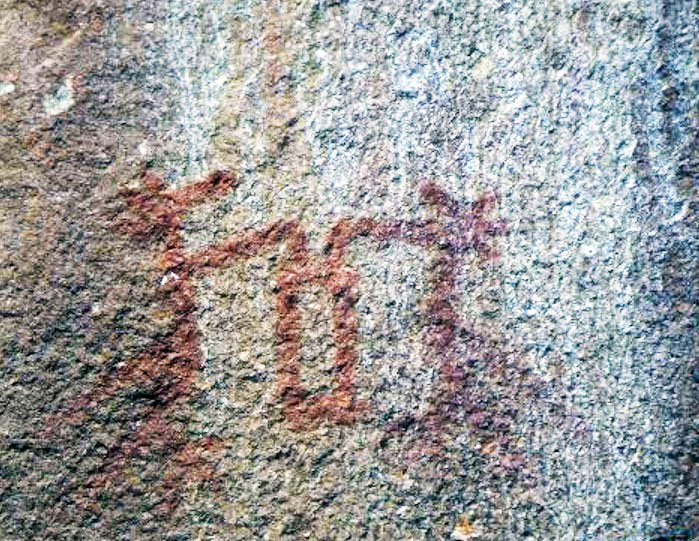 In some cases, scholars suggest that Anishinaabeg created pictographs to mark significant personal events or associations between certain clans and areas used for traditional land use and ceremony. This pictograph found at Sasaginnigak Lake shows two Kingfishers, one of the clan emblems of Anishinaabeg in Pimachiowin Aki.
This particular pictograph was probably painted in the early 1800s by members of the Kingfisher clan who wintered at Sasaginnigak Lake and used the lake as part of their family harvesting area (Petch 2010).
3. Bison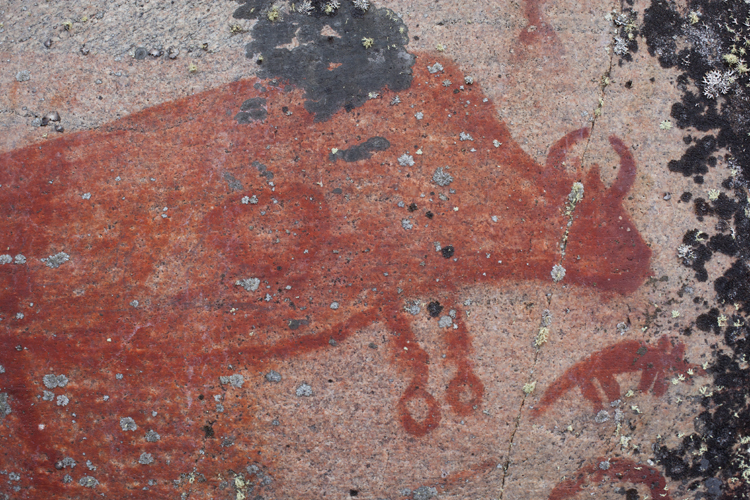 The bison in this pictograph is recognized for its circular hooves and the dark outline that appears to indicate its heart.
In the 1950s, guided by Ojibwe elders, Selwyn Dewdney began his studies of pictographs on the Canadian Shield. His book titled Indian Rock Paintings of the Great Lakes names this pictograph the Bloodvein Bison and describes it as "beautifully proportioned."
The book, co-authored by Kenneth E. Kidd, suggests that this pictograph is located a hundred miles north of where the bison herds once roamed, and the person responsible for the drawing was from that region or had traveled a far distance to hunt there.
4. Shaman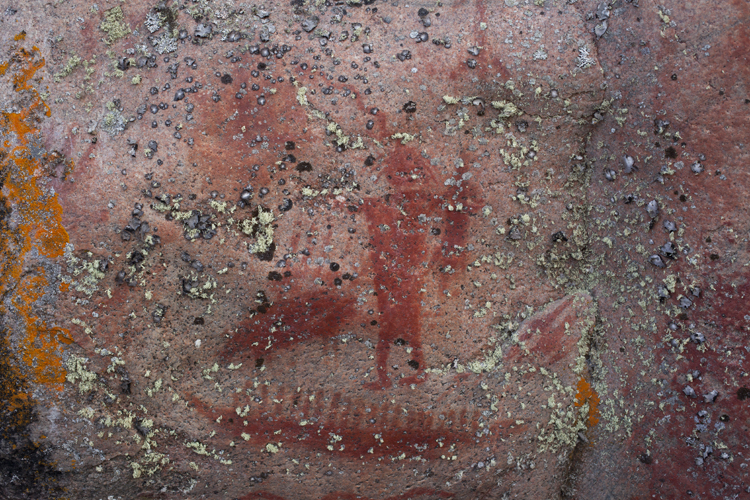 Dewdney titled this pictograph the Bloodvein Shaman. The shaman is carrying a medicine bag. Dewdney notes that the zig-zag lines that appear above the shaman's head are also seen in other pictographs, and are often interpreted as thoughts or magical powers. He adds that the "large canoe beneath and the porcupine to the left might represent the fighting prowess and clan of the shaman."
5. Wigglers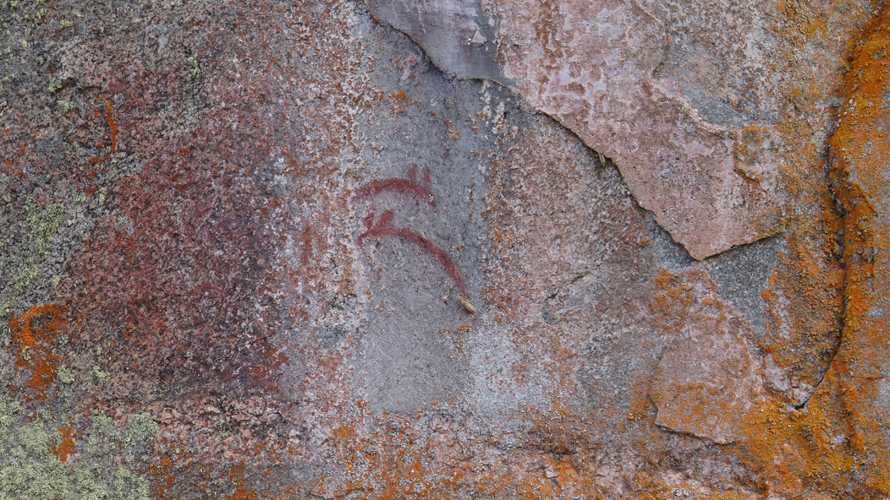 Dewdney refers to these pictographs as the "two curious wigglers" but does not provide details on what they represent. In his Ramblin' Boy blog, True_North suggests "they may be representations of the medicine serpent."
Many of the drawings in Pimachiowin Aki include animals and people that one can assume were based on powerful spirit beings and first-hand experiences of the artists. Each pictograph has its own significance. Archaeologist Jack Steinbring writes, "The imagery may often be prompted by dreams, or visions sometimes induced by fasting or prolonged concentration."
How Pimachiowin Aki Guardians Help Preserve Pictographs
The spectacular pictographs in Pimachiowin Aki are well preserved. Guardians keep the sites clean of any litter, in addition to educating people about the importance of respecting the pictographs (i.e. leaving offerings, not touching or wetting them, etc.).
The rate at which the pictographs are deteriorating due to natural weathering is unknown. Lichen encroachment is probably the most serious threat.
Locating Pictographs in Pimachiowin Aki
Pictographs are usually found on steep granite rock-faces overhanging the waterways of the boreal forest.
The drawings are typically found in places associated with powerful spirit beings, such as next to water, at the intersections of sky, earth and water, underground, and underwater.
Not all pictograph locations are to be revealed.
"There are rock paintings at Dog-skin that are sacred because the people of Little Grand Rapids believe that those paintings were made by the little rock people (memegwesiwag). The rock people were part of creation and were here from the beginning."

—Joseph Levesque, Sr. (in translation, 2014)
Anishinaabeg communicate with memegwesiwag at particular pictograph sites by presenting offerings to demonstrate respect and request assistance in travel or hunting.
"There is a cliff-rock-painting of a snapping turtle [on a certain river]. When someone travels along over there, they'd cut some tobacco. They would say, 'I will kill a moose' as they placed tobacco in their pipe. Sure enough, that was exactly what would happen. That person would get the blessing to kill a moose." 

—Elder Kenneth Owen of Pauingassi First Nation (in translation, 2007) explains the importance of a particular pictograph in communicating with the memegwesiwag responsible for the painting
For more images of pictographs, including a link to the digital version of Dewdney and Kidd's book, click here:
https://archive.org/details/indianrockpainti00dewd/page/n1/mode/2up
Sources
Indian Rock Paintings of the Great Lakes by Selwyn Dewdney and Kenneth E. Kidd
Discussion paper: Rock Paintings in the Eastern Lake Winnipeg Watershed by Jack Steinbring
Cultural Landscape: Macro Scale Document. Virginia Petch, August 2010