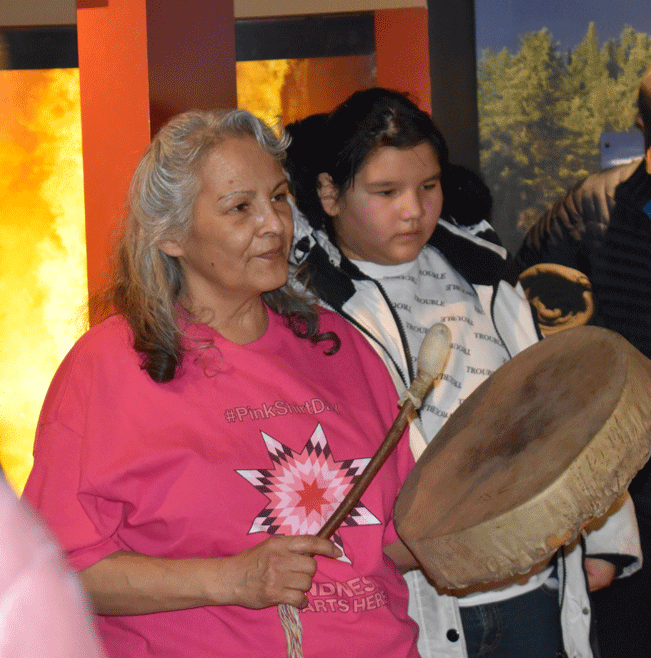 Thirty middle school students from Miskooseepi School in Bloodvein River First Nation enjoyed a thrilling overnight stay at Manitoba Museum, where they explored the wonders of technology in the Science Gallery and a private behind-the-scenes tour of the museum galleries.
Before they unrolled their sleeping bags and settled down for a sleepover at the museum, the students had a first look at the new Pimachiowin Aki exhibit.
"It's a part of who we are,"13-year-old Jenelle said about her ancestral homeland.
Ainsley, age 13, said that keeping the land and water clean is one way to help protect the land. This sentiment was echoed by many of her classmates.
Miskooseepi's language and culture instructor Yvonne drummed and sang with the students in Anishinaabemowin (Ojibwe language). She reminded the youth of the importance of Pimachiowin Aki.
"Let's honour those who have walked on our land before us," Yvonne said. "We thank the Creator for them."
The students shared their gratitude for the cultural teachings they experience in their school, including taking ice-fishing day-trips, Anishinaabemowin, and going on dog-sled rides.
"I've learned how to trap different animals," Trinity, age 12, said when asked what makes her school unique. They also learn at a young age how to care for, and respect, the land. Anishinaabe knowledge has been passed down from generation to generation. These young students receive the ancient teachings that will allow them to carry on the sacred responsibility of keeping the land.
Join the private tour: https://youtu.be/vdAyfWOB7G8