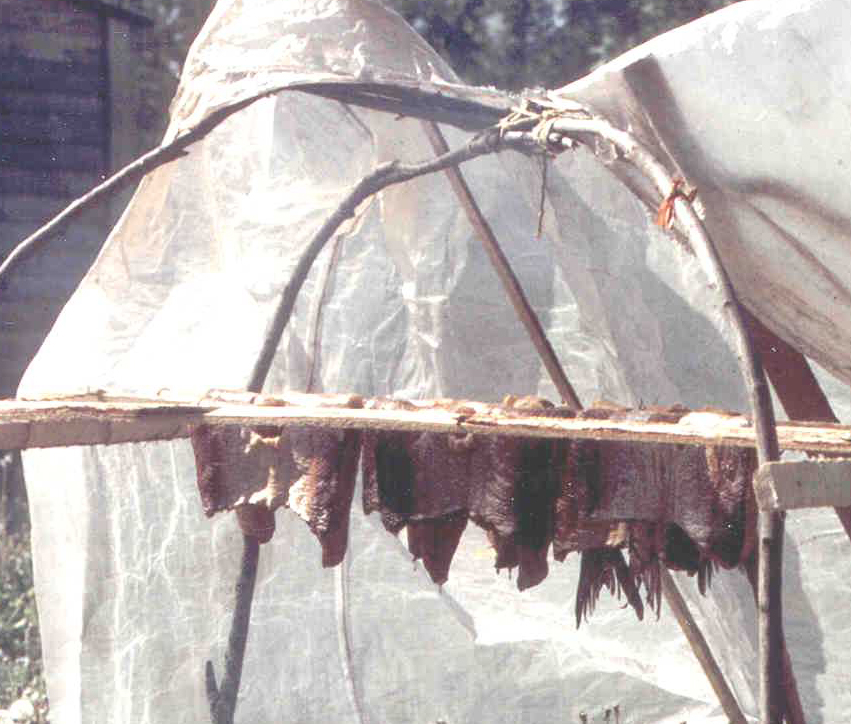 After 46 years as a commercial fisherman, Frank Young Senior retired last year. That doesn't mean he has stopped fishing. Today he fishes to feed his family, to share with Elders in the community and neighbouring communities, and to pass on traditions to his children and grandchildren.
Frank and his wife Ellen raised two daughters and a son in Bloodvein River First Nation. He says that his daughter Lisa, who now lives in Winnipeg, wants to learn how to smoke meat, and his grandchildren are interested in fishing.
"We go out on the lake in the boat with the net. They really enjoy that," he says.
Learning to fish, hunt and trap are a right of passage for youth living in Pimachiowin Aki, and learning how to prepare and cook meat is passed down through generations.
"When I cut up and dry meat, my daughter always wants to be there," says Frank, adding that his grandchildren like to watch him filet fish.
Frank has also done a lot of moose hunting, sometimes traveling a long way to "get moose just about every year." He says that he cuts the moose into quarters to haul it home, where he then cuts it up into smaller pieces.
"My daughter wants to learn how to cut up meat into slabs and hang it," he says. She was helping me last year. She's very interested in stuff like that."
If you're interested, too, here are some tips from Frank:
The Best Wood for Smoking Fish and Meat
"Look for dead poplar trees," says Frank. He builds a fire out of dried poplar, found right outside his home. Poplar is best because it doesn't have sap—trees with sap make a black fire.
Frank's Tips on How to Smoke Meat
Historically, many people would smoke meat to dry it out, to preserve it. This was in the days before electricity and deep freezers, Frank explains. "Now that we have a freezer, I still smoke meat because I like the taste of it. It's tradition."
Frank hangs pieces of moose meat on sticks and smokes them.
"There was someone who was drying meat a couple of years ago and he used spices," Frank says. "That's not the traditional way of doing it. I don't use spices, just salt. That's how it was done when I was growing up so that's the way I do it."
Unlike fish, which is smoked for flavour and then boiled or cooked afterward, smoked meat is eaten right away.
Frank's Tips on How to Smoke Fish
Frank has his own smokehouse where he smokes catfish, whitefish and goldeye. "We don't smoke pickerel filets," he says. "We fry those with flour and butter."
Franks recommends using birch sticks to pierce the fish. He smokes six to eight whitefish at a time. The fire should have a small flame, he says.
Frank closes the door and just lets it smoke. "You don't want to dry it out," he warns. "Just smoke it long enough to have the flavour."
Try this Duck Fat Potato Recipe!
Fish, moose, and duck are favourite traditional foods along with delicacies like smoked meats, white fish, and pickerel caviar.
Little Grand Rapids First Nation Guardian Dennis Keeper says that duck is one of his favourite traditional foods. He notes that the ducks are especially fat this year, so he looks forward to trying this duck fat potato recipe:
https://www.foodnetwork.com/recipes/duckfat-potatoes-recipe-1957259
You can watch a video with British Chef April Bloomfield making Duck Fat Potatoes here: https://www.youtube.com/watch?v=93404IQdSSY
The recipe is on page 238 in her cookbook 'A Girl and Her Pig: Recipes and Stories'.