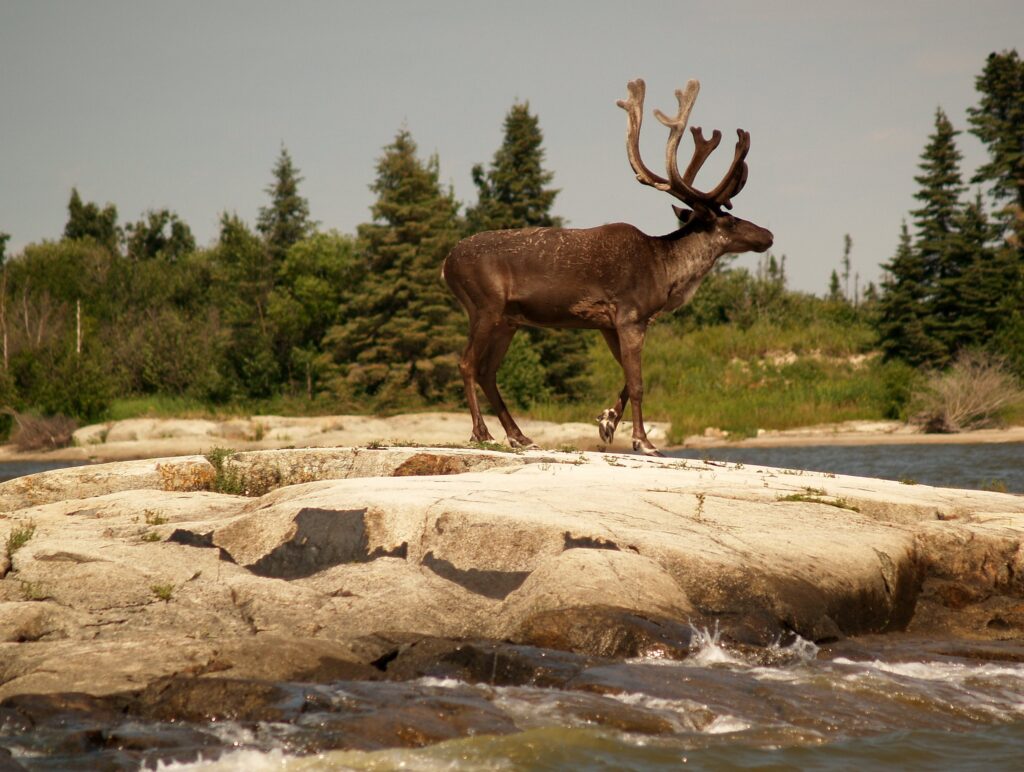 Anishinaabeg in Pimachiowin Aki generally do not hunt boreal woodland caribou—they are smaller than moose and harder to find as they are always on the move
Caribou hair is hollow, providing insulation in winter and buoyancy while swimming in summer
Boreal woodland caribou spread out to calve alone in remote areas, unlike barren ground caribou who calve in groups of females
Woodland caribou have a wide-ranging lifespan of eight to fifteen years
Caribou are the only deer species among which both males and females have antlers
Male antlers are broader and larger in size. Female antlers are generally shorter and slender and typically have only one point
Males shed their antlers in late winter and start re-growing them in spring
Females shed their antlers after calving
Caribou make a characteristic clicking sound when they move which is caused by tendons slipping over bones in their feet
Boreal woodland caribou have crescent shaped hooves that are wide and long— ideal for swimming (they act as paddles), walking on top of snow (they're like snowshoes) and traveling across soft ground like bogs
Boreal woodland caribou prefer winter foods—throughout winter, they use their sharp-edged hooves to uncover and feed on Pimachiowin Aki's abundant ground lichens
In summer, boreal woodland caribou thrive on Pimachiowin Aki's diverse plant species, including grasses, lichens, shrubs and sedges
Boreal woodland caribou have been on the threatened species list in Manitoba since 2002. They were listed as a threatened species across Canada in 2003
Four groups of boreal woodland caribou live in Pimachiowin Aki
Historical Uses for Caribou
When thousands of caribou roamed, First Nation communities hunted them for a variety of reasons:
Clothing
"Some people use the hide for clothing," explains Pimachiowin Aki Guardian Dennis Keeper. "It's softer than moose hide." Antlers are used to make buttons for clothes. Caribou hides were used for moccasins (makizinan). Caribou dew claws, adikwaganzhiig, were used in ceremonial regalia.
Drum-making
"Many years ago, the only reason we would hunt caribou would be for drum-making," Dennis Keeper says. Caribou hide is thin and makes an excellent cover for a drum.
Tools
Antlers found in the forest are used to make scrapers, needles, and knife handles. Caribou bones are used to scrape off fat from beaver, otter and moose hides.
Learn more > Species of Conservation Concern: Boreal Woodland Caribou
Feature image: Bruce Bremner