Meet Our Guardians
Dennis
I don't think people can really fathom the immense boreal forest that we call home.

Dennis Keeper, Guardian, Little Grand Rapids First Nation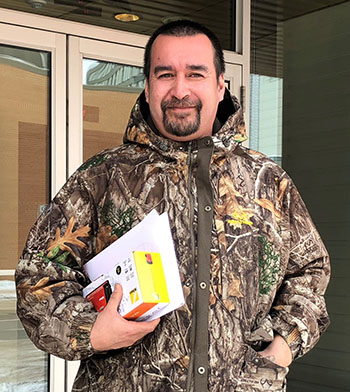 Where were you born?
In Hodsgen, Manitoba. That's where the women went to have their babies until 1976. I was raised in Little Grand Rapids.
What is happening right now outside your window?
It's very cold but so beautiful. It's almost like a Norman Rockwell painting.
You were a full-time trapper and outdoor guide before you became a Guardian. What are your earliest memories of keeping the land that prepared you for your work?
I was raised by my great grandmother. We lived off the land. We loved the land so much. She used to tell me to open my ears and listen to the land. She used to tell me that she will tell you things. In our language, the land is referred as she or her.
Keeping the land means preserving the language. Sometimes, only Anishinaabemowin (speaking Ojibwe) can accurately express things like names of places or teachings on how to give back to the land. How do you preserve language as a Guardian?
Sometimes when I talk to people in the community it's hard to talk to them in English, so I revert back to my language (Ojibwe) and it makes it so much easier to communicate.
Describe your best day on the job so far.
The best so far was when we had all of the trappers come in and we worked on the names of the rivers and lakes, and discussed how they got their names. Some of them go back years and years. Some of the names of the lakes are so different from the maps and charts because they were re-named by other people—using the wrong name. The community here is seen as Little Grand Rapids, but in our language it's called Fire Wood Rapids.
What are your greatest concerns about the land, waters and animals?
My greatest concern is how many people I see when I'm out there. Ten to 15 years ago you could go out for days and not see anybody. Now you go out and you see hundreds of people and you wonder what they're doing there. It affects the animals, causes the animals to leave. I've noticed on my trapline how very few fur-bearing animals there are now. Ten years ago people started bear baiting, which introduced more bears into the area. And the bears are the main killers of moose calves. This affects the future of these animals.
What is your favourite traditional food?
Mallard and pickerel, I can't decide one from the other. It's like a pilgrimage when I go to my trapline in the spring for duck hunting. My favourite travel is to my trapline.
How can people in your community help you keep the land?
By reporting back to me on what they see. Things like illegal dwellings and poaching. For me, I've utilized all of the other guys that go out. I talk to them and ask them to keep an eye on the water level and report back to me. The last few years the muskegs have dried up and this year they are full again. That's good for fire season—when you see muskeg burning, it's not a good sign.
What are your goals as a Guardian?
My goal is to teach the young people how to set traps and snares, how to prepare the animals… just don't go out and start killing recklessly. You have to know why you're taking the animal's life. Another goal is to teach people what Pimachiowin Aki means. The land that gives life—it will either give you life or take it away,
What is the one thing you think all people should know about Pimachiowin Aki?
When you talk about Pimachiowin Aki, it makes it sound small but when you put boots on the ground you're in awe of how huge this area is. I don't think people can really fathom the immense boreal forest that we call home. It's the largest forest in the whole entire world. You can fit every rainforest in Pimachiowin Aki and there'd still be room to spare. And also, leave it the way you found it. Don't try and change it.
Click on a Guardian to read their interview: